Potcake puppies; just who rescues who?
September 1, 2013
/
/
Comments Off

on Potcake puppies; just who rescues who?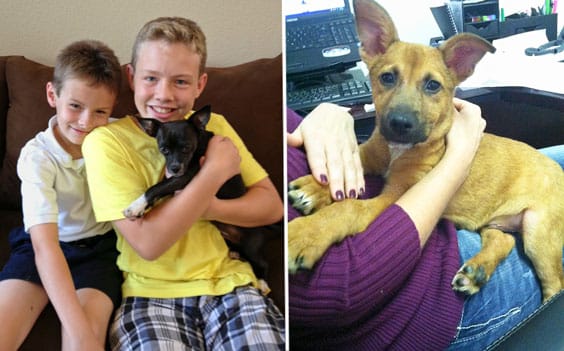 Pictured left: AJ and Alex LaMotte cuddle with their OutPaws adopted dog Coolio who lives up to his name as a way-cool pooch! Pictured right: Although appearance varies, potcake dogs generally have smooth coats, cocked ears, and long faces. Most have an "island attitude" of being laid back and lovin' to chill with the family.
By Kathy Dunker; photos courtesy of Barbara LaMotte
Seven year resident of the Serena neighborhood, Barbara LaMotte has taken a special interest in a unique kind of rescue mission. She is helping to rescue "potcake" puppies, which is a mixed-breed dog from the Turks and Caicos Islands and the Bahamas. Its name comes from the congealed rice and pea mixture that the local residents traditionally feed stray dogs.
LaMotte became involved in rescuing potcakes when her friend Carrie Thornburgh started OutPaws Rescue in February of this year.
LaMotte serves as the volunteer coordinator for the organization. She is in charge of the local adoption events that take place around the area.
A few times a month she transports dogs to get spayed and neutered when needed, and she seeks out others who share a passion for dog rescue and helps them volunteer with OutPaws as their schedules allow.
Founder Thornburgh worked previously with the Humane Society of Grand Bahamas and wanted to continue to help the shelter due to its dire conditions. The kill rate used to be around 90 percent until they started sending dogs to the United States.
Since its inception in February, OutPaws has saved the lives of 99 potcakes. OutPaws' mission is not only to save potcakes but also dogs from local kill shelters and high-kill shelters in neighboring states. Successful adoptions since February alone total 176.
When asked if LaMotte owns a potcake herself, she replied, "Well, actually I do not. I adopted a ten-month-old chihuahua mix from OutPaws this past April. "Coolio" came to us from a high-kill shelter in Torrington, Wyoming. He is one of the coolest dogs I have ever had, and he brings immense joy to our family!"
LaMotte concluded, "I feel very blessed to be part of such an amazing organization that gives these animals a voice and a second chance at a great life!" OutPaws Rescue is always looking for people to foster its animals until they find permanent homes.
For more information or to foster or donate, visit www.outpawsrescue.com or e-mail lamotte at blmetro1@aol.com.