All eyes on Colorado for the Solheim Cup
September 1, 2013
/
/
Comments Off

on All eyes on Colorado for the Solheim Cup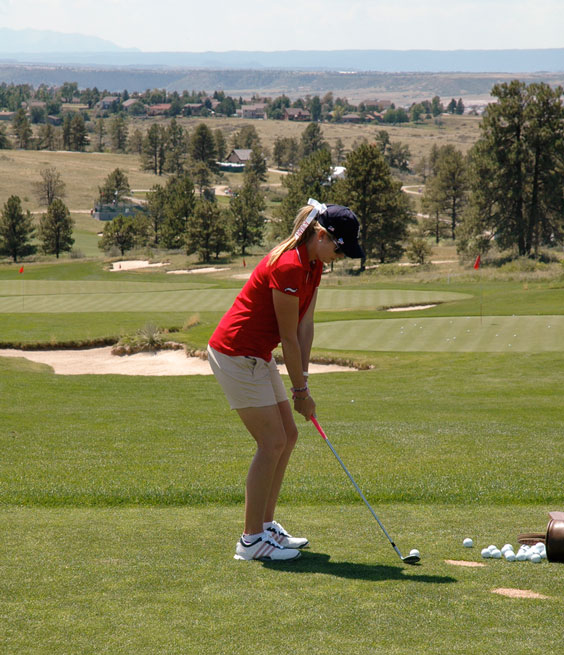 Team USA golfer Paula Creamer gears up for match play at the Solheim Cup, which was held last month at the Colorado Golf Club in Parker.
Article and photo by Lisa Crockett
Although sunny skies and supportive crowds weren't enough for Team USA to recapture the Solheim Cup in August – which they lost to Team Europe in Ireland two years ago – the venue, the experience, and Colorado made for a great week of golf.
"I'm really not too disappointed in the loss," said Tom Ferrell, marketing and communications director for the Colorado Golf Club in Parker, where the tournament was held. "As the host, our role is to stay somewhat neutral and provide a place for good golf. I think the club made a huge impression on the visitors who came here – this really is captivating land, and people got to see that."
Media and spectators descended on the Colorado Golf Club in droves. Roughly 110,000 people attended the event, representing all 50 states and 11 countries. The Golf Channel broadcast 74 hours of coverage of the event to an estimated 29 million households.
Staff at the club, along with roughly 1,600 volunteers worked hard to help visitors feel welcome and have a good time.
"I am so proud of the staff here," said Ferrell. "And the volunteers – most of whom were local – were phenomenal. The community support really made this event great."
In the end, Team Europe secured an 18-10 win, which marked the largest margin of victory in the history of the Solheim Cup. This is the first loss on American soil for Team USA since the biennial event began in 1990. The next Solheim Cup will be held in Germany in 2015 at the St. Leon Rot golf course.
'We have got two years to sit on this and four years since we have won the Cup," said Team USA golfer Paula Creamer. "I can tell you we'll be ready to go."