Puppuccinos get a paws up
September 1, 2020
/
/
Comments Off

on Puppuccinos get a paws up
Article and photos by Kathy Fallert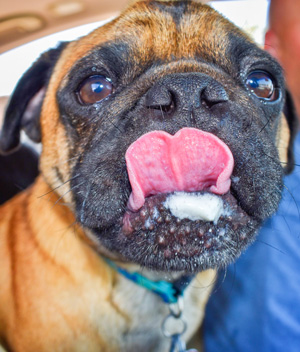 Part of the Starbucks "secret menu" is something that dogs of all ages and sizes can really sink their noses into – puppuccinos. The Starbucks located off Castle Pines Parkway has their own Instagram (IG) account (@castlepinespups) celebrating the pets that come through the drive-thru looking for a special treat. As the page states, "Serving puppuccinos all day, every day." They take photos of animals getting treated to the indulgence.
A puppuccino is simply whipped cream served in a small espresso-size cup. It's free, and it's quite a popular menu item. As is evident from the photos on the Starbucks IG account, it's not only dogs who enjoy a good puppuccino. There are cats, a rabbit, a bearded dragon and an alpaca, all pictured excitedly waiting for their drive-thru or walk-in treat.
According to resident Dr. Nancy Moyle, part owner of Lone Tree Veterinary Medical Center, giving human food to dogs isn't typically recommended. However, she shared, "I think it's an adorable idea for pets that can tolerate it." She went on to state that any milk product can cause gastric distress for dogs, and artificial sweeteners should always be avoided as they can be especially toxic. "But we understand the desire people have to treat their pets, and if done in very small amounts and with caution, it should be okay for most pets."
For dogs that are especially lactose intolerant, coconut milk whipped with a mixer turns into a dairy-free puppuccino alternative.