Rock Canyon girls wins 4A State swimming title
April 1, 2009
/
/
Comments Off

on Rock Canyon girls wins 4A State swimming title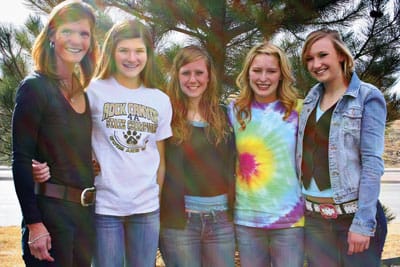 Rock Canyon swimmers (left to right): Coach Nicole Vanderpoel, Maddie Vanderpoel, Mattie Nobles, Sarah Classen, Abigail Fuselier. Not Pictured Rock Canyon Swimmers: Rachel Berensen, Chelsea Dome, Kelly Everds, Arielle Harrison, Katie Kennedy, Heather Morrison, Erin Oehm, Taylor Renda, Lauren Scheirman, Ellen Strampel, Tia Totura, Jennifer Welden, Meredith Wilemon, Kaitlin Zindel.


Article and photo by Carin Kirkegaard
The Castle Pines community is home not only to Rock Canyon's girl's assistant swimming coach, Nicole Vanderpoel, but also many girls that swim for Rock Canyon – the 4A state swimming champions.
The girls won the 4A state title in February. According to Vanderpoel, our focus was on preliminaries and finals held in Loveland, Colorado. It was here that Vanderpoel saw her girls come together. "The win was a total team effort. These girls have swum together for a long time and it showed when each of the girls were either behind the blocks or at the end of the lane cheering for their teammates," said Vanderpoel.
"There is no other team like this one," said Rock Canyon senior Mattie Nobles.
"We are a big family and are friends both in and out of the water," continued Abigail Fuselier, a freshman this year and new to the team.
With a total of 52 swimmers this season, Rock Canyon has grown over the past six years as a team. "My freshman year we took seven swimmers to state and we were just thankful to be there," said Nobles. This year the team took 13 swimmers and one diver and set three 4A state records.
To learn more about Rock Canyon swimming visit the school's website at www1.dcsdk12.org/secondary/rchs/redesign/index.php.