Rocky Heights teachers find joy in new supplies
February 1, 2023
/
/
Comments Off

on Rocky Heights teachers find joy in new supplies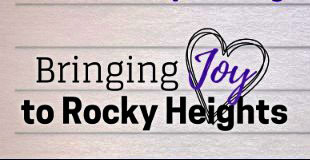 Rocky Heights Middle School (RHMS) recently gave grants to teachers, funded from this year's school-wide fundraiser. Teachers compiled wish lists for supplies and curriculum materials. The fundraiser generated more than $56,000. The annual fundraiser was held in the fall, with donations accepted in early October.
The fundraiser theme was "Bringing Joy to Rocky Heights." Teacher and staff wish lists included needed supplies that benefit students this school year and into the future and that bring joy.
Several teachers reported on their joyful acquisitions:
Sonya Churchill, a special education teacher, purchased SEL (Social-Emotional Learning) curriculum to be used in her resource classes. "This will help me meet the needs of my students that require specialized instruction in learning social skills and study skills," Churchill said.
Amy Tempel, the librarian, purchased two new stationary bikes for the library to replace broken ones. Students can ride while they read. "It brings me joy to see the number of kids who want to spend time riding the bikes, playing games and checking out books!"
Judi Holst, a speech/public speaking teacher, purchased new timers and headphones for her elective classes. She also hosts a school-wide speech contest each year; she used some of the fundraiser money to purchase contest prizes.
Lisa Selle, the eighth-grade Language Arts teacher, was able to purchase $1,000 worth of books for her classes. "I got two class sets of Stargirl by Jerry Spinelli and one class set of The Knife of Never Letting Go by Patrick Ness," she said.
Julien Bouquet, a technology teacher who supervises multimedia and yearbook, received some great new cameras for his students.
Consumer science teacher Sharon Majetich received several needed supplies to help her popular cooking class run more smoothly. Her classroom has four stoves, but nearly every class has six groups. "I requested two portable stove tops so that all six cooking groups can use the stove tops at the same time," Majetich said. She also asked for portable whiteboards. Her classroom did not have any previously. "They are really handy for menu planning, announcements and the student favorite game COOKTIONARY!" Majetich also shared that a set of chef caps purchased by fundraiser money has created a lot of joy for her students. Hair covering while cooking is mandatory, and students have been using rubber bands and shower caps. "The launderable chef caps have been a wonderful addition because the students see themselves as a little bit more professional looking than wearing disposable shower caps."
By Celeste McNeil; photo courtesy of Amy Tempel