Rocky Heights yearbook staff receives top honors
November 1, 2014
/
/
Comments Off

on Rocky Heights yearbook staff receives top honors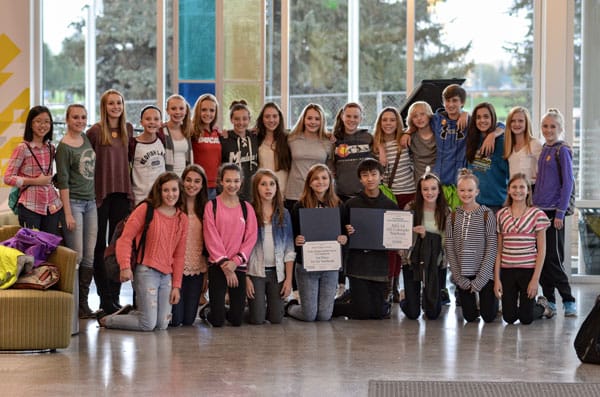 The current yearbook staff at RHMS enjoyed spending the day at CSU and participating in J-Day, an exciting day of education about journalism and media. RHMS was proud to take home two awards.

By Amy Shanahan; photo courtesy of Tim Ryckman
The Rocky Heights Middle School (RHMS) yearbook staff was thrilled to participate in J-Day at Colorado State University on October 9. J-Day is a yearly event sponsored by the Colorado High School Press Association whereby students from Colorado schools attend workshops and listen to experts speak on various subjects related to journalism and media. Attendees also submit journalism pieces, which are reviewed by judges all over the country, and are awarded honors.
High school students make up the primary bulk of attendees, but RHMS attended and competed and came home with two top honors. The 2013 yearbook won the All-Colorado Award which is the highest distinction given. Additionally, though they competed against high school photographers and writers, three RHMS students won third place in the Best of Show category for their photo and caption packages. Congratulations to Alyssa Boback, Ashley Mercer, and Brittney Hutchison.
Yearbook teacher Tim Ryckman raved, "All-Colorado is such an honor for last year's yearbook staff. Earning the highest award given in the state of Colorado says a lot about the amount of effort that the kids put into the book. I'm very proud of all of our yearbook kids!"