See and Be Seen This Halloween
October 1, 2008
/
/
Comments Off

on See and Be Seen This Halloween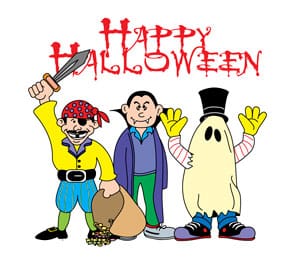 Halloween. A time for Tricks and Treats and Things That Go Bump in the Night. But according to Dr. Jason Ortman, Therapeutic Optometrist, Halloween can also be a time of sight-related hazards. Dr. Ortman offers these tips to ensure a safe and happy Halloween.
"Decorating the face with makeup approved for the skin is almost always preferable to masks," Dr. Ortman explained, "The eyeholes on the mask can be too small to allow full vision or the mask can shift during wear and obstruct sight."
Dr. Ortman added that it is important that the makeup be approved for use on the skin and that care should be taken to keep the makeup away from the eyes when putting it on and taking it off.
Decorative contact lenses that make the eyes look like cat eyes or with wild designs are generally safe, said Dr. Ortman, "But remember that any contact lens is a medical device and must be prescribed by and worn under the supervision of an eye doctor"
Dr. Ortman also recommends the following to make certain that Trick or Treaters can see and be seen on Halloween:
Wear reflective clothing or place reflective tape on Trick or Treat bags and clothing
Carry a flashlight. "Glow sticks" that are sold for Halloween are filled with a chemical that can cause eye irritation.
Tie hats and head scarves securely so they don't slip over the eyes and obscure vision.
Dr. Ortman owns and practices at Castle Pines Eye Care located at 7437 Village Square Drive, Suite 115, located in Castle Pines North.