June 1, 2020
/
/
Comments Off

on Host a low-key gathering
Thoroughly Modern Manners – Ask Mrs. Abramovitz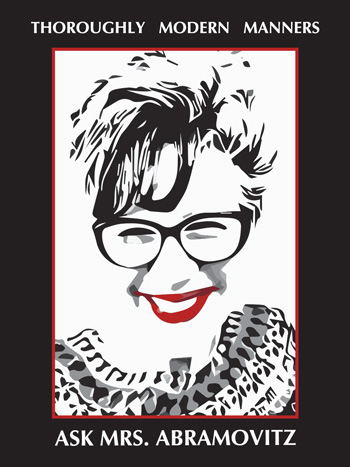 Dear Reader,
How about a last-minute party? Are you ready? We find ourselves underscheduled for once, and we're all just ready to bust out the hospitality. I'm not talking about cleaning the house and hosting a multi-course meal, I'm talking about friendship and togetherness, not entertaining or impressing.
Maybe it is just takeout with another family, appropriately socially distanced and outdoors. How lucky are we that it's starting to get warm? Maybe invite some of the neighbors for an impromptu picnic or an ice cream social on a Friday afternoon or a Sunday movie night in the backyard? We're talking about minimal effort with maximum enjoyment and respecting the new way. Something so simple and fun that folks feel comfortable bringing what pleases them.
Here are some things that may help when you invite some friends over for a not-so-perfectly planned party … tonight:
Get the music on! I saw some of the ladies from the neighborhood last year when Ina Garten was in town at the Paramount Theatre. She emphasized this very thing. How are you supposed to know it's a party if the house is quiet? I'll share my favorite new "radio" station with you from Apple Music; if you've been in Colorado for a while you'll recognize The Subdudes. Their radio station is all that and a bag of chips!
Keep everything else low-key. There's no shame in outsourcing, and it goes a long way to support local establishments. Break out the menus and everybody order food to be delivered or picked up. Make sure you have music, good lighting, plenty of seats and lots of ice for those whiskey cocktails.
Also, don't forget to say, "I'm so glad you're here." It's a wonderful thing to say out loud and especially soothing to someone who has shown up early, late or uninvited. Don't lose sight of the point of the gathering. Food always tastes better when we share it with the people we love.
Big Love,
Mrs. Abramovitz