Vacant Lot in City an Eyesore
April 1, 2009
/
/
Comments Off

on Vacant Lot in City an Eyesore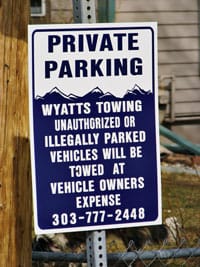 by Terri Wiebold
The vacant lot on the northeast corner of Castle Pines Parkway and Beverly Boulevard at I-25 (adjacent to the gas station) is currently being used by many as a used-car parking lot. According to city of Castle Pines North community development director, Sam Bishop, the location has been the topic of many complaints.
The property is currently owned by Castle Rock Properties, LP and is part of unincorporated Douglas County. It is a privately-owned lot and a Colorado representative of the property owner has indicated that parking on the lot is strictly prohibited.
"Illegally parked cars on the lot are as much a concern for us as they are for residents," said Paul Zakovich, president of Biltmore Development Ltd. "We now have towing signs there on site."
Residents who witness cars parked in the vacant lot are encouraged to call Wyatt Towing at 303-777-2448. Vehicles will be towed away at the owner's expense.
According to Zakovich, future plans for the parcel include possible annexation into the city of Castle Pines North and rezoning the lot for commercial development.
"We hope to eventually annex the property into the city," said Zakovich. "If that occurs, the property tax paid on the lot would go to the city and any future sales tax revenue from potential future business development on the lot would also go to the city," he said.
As of press time, the city had not received any site plans or annexation requests.