Wines of the Pines – What's all the buzz about?
August 1, 2010
/
/
Comments Off

on Wines of the Pines – What's all the buzz about?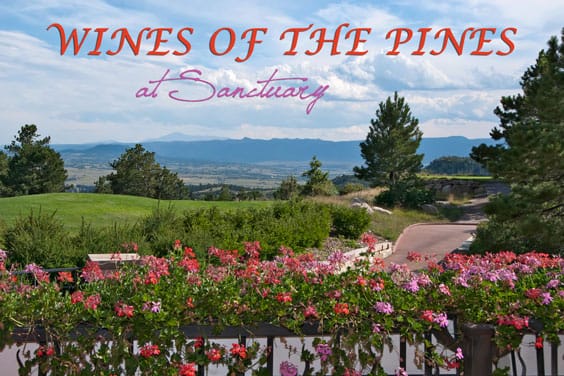 by Terri Wiebold with photos by Tim Gamble
If you haven't attended a Wines of the Pines event, you are clearly missing out! The buzz is not just about the wine; it's about all the terrific charitable organizations Wines of the Pines supports, and the local business sponsors who make the events possbile.
Wines of the Pines is a non-profit organization dedicated to assisting charitable and business groups in working together to raise funds for those individuals who find themselves in need of assistance.
The Castle Pines Chamber and Wines of the Pines have elected to combine thier charitable resources for 2010. The combined goal is to promote charitable social events which allow the residents and the businesses of the Castle Pines community to come together for a common cause – giving to others.
All profits which are produced from these social events are distributed to charities within Douglas County. To learn more about Wines of the Pines or sponsorship opportunities, go to www.winesofthepinesinc.com. Also, be sure to check out the Complete Slideshow of the event at http://www.castlepinesconnection.com/pages/photo/2010/album10.html.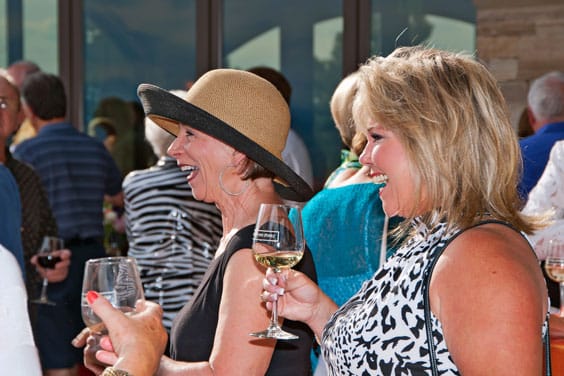 Joyce Romanello (left) with Janice Bergeron (right) enjoy the gorgeous scenery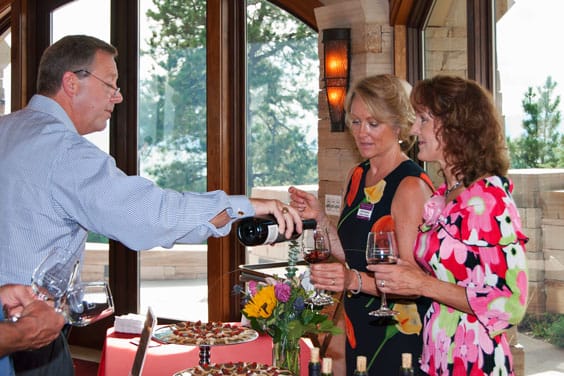 Eric Butenhoff pours wine for Cindy Emerine (center) and Lori Ridder at Sanctuary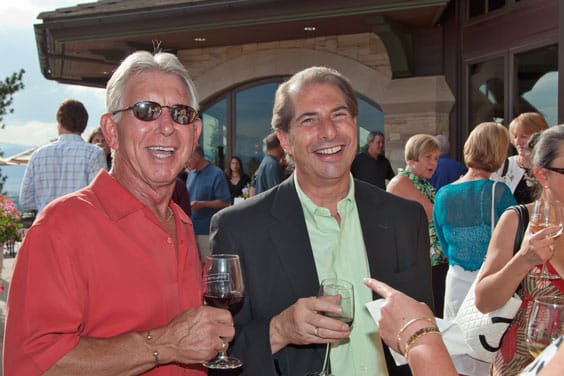 Duke Fyffe (left) and Steve Blank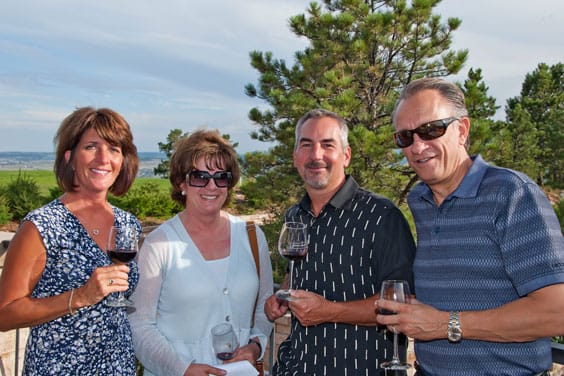 Left to right: Cathy Hemmer, Pauline Carabelli, John Hemmer, and Hank Carabelli
The Compass for Your Cause program joins with Wines of the Pines
Wines of the Pines is pleased to announce that Compass Bank Castle Pines branch is offering an opportunity to help Wines of the Pines charities.
When you open your personal checking account with Compass Bank Castle Pines, they will place $50 into the Wines of the Pines account on your behalf. There is nothing else for you to do but open the account prior to October 31, 2010.
If you are interested in this opportunity, please be sure to mention that you are participating in the Wines of the Pines program (and code #79393) when you open your account.
For questions about the program, please contact Zeta Creed of Compass Bank or visit www.bbvacompass.com.