Yummy burgers, fries and frozen custard coming to Castle Rock
April 1, 2013
/
/
Comments Off

on Yummy burgers, fries and frozen custard coming to Castle Rock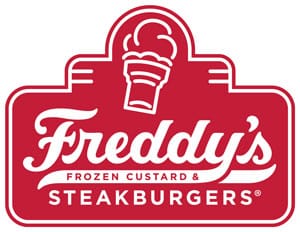 By Amy Shanahan
A new dining option will soon be available in Castle Rock across from the Outlet Mall. Freddy's Frozen Custard and Steakburgers recently broke ground near Lowe's, and is set to open in early July.
Freddy's is a franchise location of an enormously popular restaurant with 89 stores in 14 different states. Freddy's prides itself on the quality and freshness of its 1950's inspired menu. All meals are made to order, and the delicious frozen custard is freshly churned throughout the day. The steakburger is 85 percent lean, and the hot dog is made with premium Vienna beef.
Family is at the heart of the Freddy's story and is a tradition that continues to this day. The restaurant was started by two brothers who wanted to honor their childhood in the 1950's and their father Freddy, who was a World War II veteran, and Purple Heart recipient. Together with a friend, they created the Freddy's brand that focuses on recreating a simpler time, where focus was on family, home-cooked meals, and traditional values.
The Castle Rock location is also family owned. Brian Pyle and his father Bill Pyle are the franchise owners and this particular location is their sixth store in the metro Denver area. The Pyles both live in the south Denver area and are thrilled to be opening a location so close to home. The Pyles feel strongly about the importance of family and a positive environment. They care for their employees and enjoy mentoring them and promoting them for their hard work. "Our core values are those of the original Freddy's – family, quality, and hospitality."
The Pyles have a location in Highlands Ranch, and the clean welcoming environment is second only to the wonderful burgers, fries and frozen custard. "I believe the community in Castle Rock will appreciate that our employees execute the Freddy's way," remarked Brian. "Our employees work hard but they have fun and this resonates with our guests. At our stores, our guests will experience good food in a fun environment."
Freddy's Frozen Custard and Steakburgers will be located at 1346 New Beale Street, Castle Rock. Hours will be Sunday through Thursday from 10:30 a.m. to 10:00 p.m., Friday and Saturday from 10:30 a.m. to 11:00 p.m.