A bit of Hollywood comes to Village Wines at Castle Pines
October 1, 2013
/
/
Comments Off

on A bit of Hollywood comes to Village Wines at Castle Pines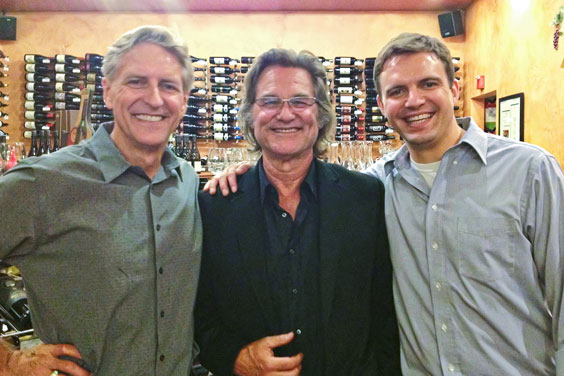 GoGi Cellars owner Kurt Russell showcased two pinot noirs and a chardonnay called "Goldie" during the first "Meet the Winemaker" event held by Village Wines at Castle Pines. Owners Brad (left) and Braden (right) Dodds were encouraged by the feedback they received from the attendees, and plan to host similar events each month.
By Amy Shanahan; photo courtesy of Brad Dodds
Brad and Braden Dodds, the father and son team that owns Village Wines at Castle Pines, have started a new tradition. Each month, the shop plans to host "Meet the Winemaker" events whereby customers are able to meet the owners and winemakers of the various wines that are carried by Village Wines.
Braden Dodds has worked at numerous wineries, vineyards and tasting rooms throughout the world, and has developed relationships with many winemakers, winery owners and growers. "I am very interested in connecting my clientele with the people behind the brands, so that they feel confident in their purchase, and have a connection with each bottle they pop from their wine cellar."
The events are free of charge and are by invitation only, as the Dodds' match their clientele with the various wines that will be tasted. The first "Meet the Winemaker" event took place in September, when the shop brought in Hollywood star Kurt Russell, the owner of GoGi Cellars in Santa Barbara. The Dodds' invited approximately twenty of their customers who regularly purchase pinot noirs and chardonnays, as those were the wines that were showcased during the event. Local restaurant "The Social" provided food pairings that complemented the wines, creating a memorable and educational experience.
Although they can't promise a Hollywood star at every tasting, the Dodds' hope to make each Meet the Winemaker event an educational and enjoyable experience for their guests. Customers are encouraged to ask about future events and tastings.
Village Wines is located at 872 W. Happy Canyon Rd. #110 in The Village at Castle Pines. For additional information, visit www.vwacp.com or call 303-663-9463.