A new library coming soon to a shopping center near you
June 1, 2009
/
/
Comments Off

on A new library coming soon to a shopping center near you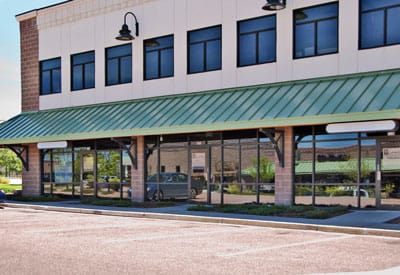 Storefront for new library in Castle Pines North, located at 7437 Village Square Lane. (Photo by Tim Gamble)

by Lisa Crockett
After countless hours of work and planning, volunteers working to bring a library to the Castle Pines community have cause for celebration.
Jamie LaRue, Douglas County Libraries Director, has been given unanimous approval from the Library's Board of Directors to enter into a lease agreement that will provide space for a library in Castle Pines North (CPN) for at least the next three years.
According to librarian Peg Hooper, who will serve as the manager of the Castle Pines branch, the library is likely to open in mid-September and will be open approximately 60 hours per week, including some weekend and evening hours.
"This community has come forward with a remarkable option for the Library District," said LaRue at a meeting with the Library's Board of Directors. "Having a library in Castle Pines may actually save the District money."
As part of the agreement to secure the lease for the 2,500 square-foot space with the library, which is in the Village Square shopping center and is being offered free of charge for the first two years, the community must raise $50,000 by the end of October. Funds raised by the community are a "show of good faith" and will be used for maintenance and other library costs. As of press time, the Castle Pines Chamber of Commerce had collected pledges for more than half the required amount.
Other fundraising efforts are now being launched.
"We are offering a few different fundraising activities," said Margie Woodruff of the Douglas County Library Foundation, a group which raises funds for the Library District. "We hope that everyone in the community will find a way to get involved."
Thursday, August 20, from 6 until 8 p.m.: Author's reception at Cherokee Ranch. Tickets will be $45 per person and can be purchased prior to the event at the Chamber of Commerce Office People donating five books to the book sale at time of purchase will pay a ticket price of $40.
Saturday, August 22nd, from 9 a.m. until 4 p.m.: Used Book Sale at the Community Center on Castle Pines Parkway. Contact contact by e-mail if you would like to volunteer for this event.
Sunday, August 23, from 2 to 4 p.m.: Children's book swap at Coyote Ridge Park (rain date the following Sunday). Families will pay $5 per child, and children may "swap" five books with other children in attendance. Contact contact by e-mail if you would like to volunteer for this event.
For more details about library fundraising efforts or to make a donation, visit www.castlepineschamber.com.