American Academy students respond to a child's final wish
December 1, 2017
/
/
Comments Off

on American Academy students respond to a child's final wish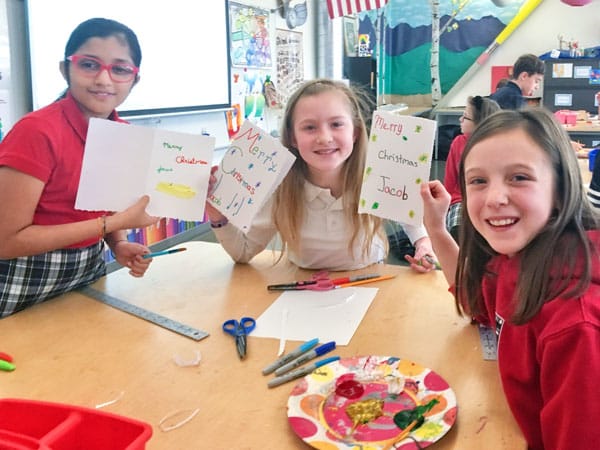 Shreya Behera, Juliana Neufeld and Allison McDonald utilize art supplies to make cards for Jacob Thompson, a young boy who is fighting a rare form of cancer.
By Liz Rector; photos courtesy of Eric Ptolemy and the Thompson family
Maine residents Roger Thompson and Michelle Thompson Simard are the proud parents of nine-year-old Jacob Thompson, who was diagnosed several years ago with stage four neuroblastoma. This rare cancerous disease causes tumors which have spread throughout Thompson's body. On October 11, Jacob was admitted to the Barbara Bush Children's Hospital in Portland, ME.
Despite chemotherapy and radiation, Jacob's parents and doctors doubt that the boy will make it to Christmas.
A member of American Academy's administration first heard of Jacob's story through a 9News special feature and was so moved that she asked the Deans of Students to engage the students in reaching out to Thompson.
Knowing that he may not see his favorite holiday, friends, family, and complete strangers, including the students at American Academy, set out to bring an early Christmas to Jacob Thompson.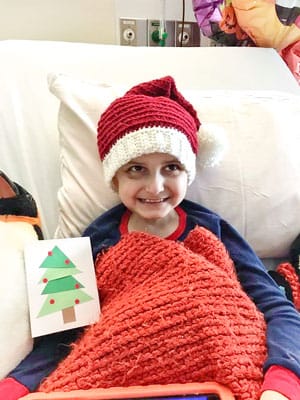 Michelle Thompson Simard posted this photo on Facebook of her son Jacob, who is all smiles as he poses with one of the many Christmas cards he has received.
Fifth grade Castle Pines American Academy students gathered to create Christmas cards and write well wishes for Jacob, whose motto is: "live like a penguin." His mother Michelle told Good Housekeeping that the motto is a reminder to, "be friendly, stand by each other, go the extra mile, jump into life, and be cool."
Since his story made the news, Jacob has received an outpouring of love and support, including AA's thoughtfully crafted cards which were recently mailed to him.
Sadly, Jacob passed away about a week after the students' cards reached him. His friends and family have expressed their sincere gratitude to everyone who made the effort to bring him an early Christmas and lift his spirits during his time in the hospital.