Author of "How to Talk to Girls" signs books at BRE Book Fair
June 1, 2009
/
/
Comments Off

on Author of "How to Talk to Girls" signs books at BRE Book Fair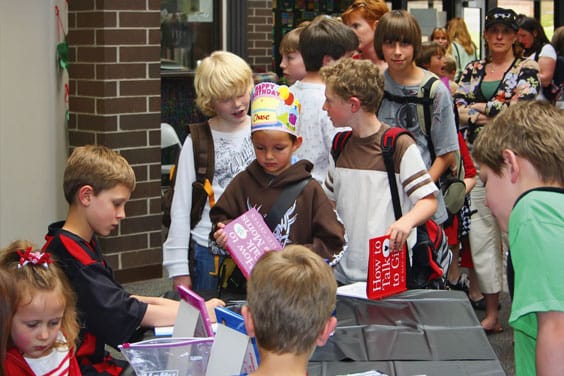 By Carin R. Kirkegaard
Students and parents lined up at the Buffalo Ridge Elementary (BRE) spring book fair to have Alec Greven sign copies of his three best selling books.
Greven, a fourth grader at Soaring Hawk Elementary School in Castle Rock, became a published author when he was nine years old and caught the eye of the national media. He has appeared on The Ellen DeGeneres Show, Fox and Friends, CNN and the TODAY show. In March, he released his second book, "How to Talk to Moms" and his latest book, "How to Talk to Dads" was released in April.
The book signing helped BRE sell more than $15,000 in total sales at the book fair, which translated into a profit of more than $3,000 for the school library.
The school's parent teacher organization, the Buffalo Ridge Education Alliance (BREA), thanks everyone who supported the book fair through volunteered hours and dollars spent at the fair.