Autumn runs just for fun By Lynne Marsala Basche
September 1, 2015
/
/
Comments Off

on Autumn runs just for fun By Lynne Marsala Basche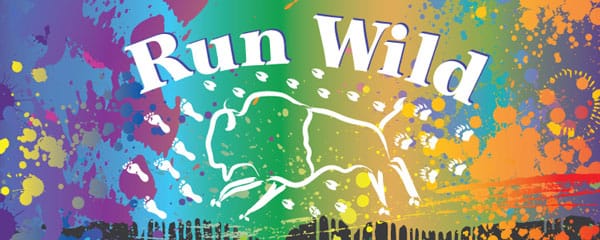 By Lynne Marsala Basche
There is nothing better than getting outside on a crisp late summer or early fall Colorado day and participating in a local run or bike event. And, if those events have zombies, color blasters or pumpkins, all the better. Lace up your sneakers, get ready to walk, run or anything in between, and enjoy the following local events that each bring the festivities to a whole new level of fun.
If you bleed orange and blue, the Broncos Back to Football 7K is for you! Join your fellow fans on September 6 at Sports Authority Field at Mile High and celebrate the end of the run by passing through the tunnel and onto the field just like your favorite players do during the season. Stay for a post-race expo with music, food and drinks, and an opportunity to meet players and cheerleaders. Visit www.broncos7k.com for more information about the 7K, as well as the kids fun run.
Join friends and neighbors at the City of Castle Pines Race Wild on September 13 at Elk Ridge Park. This year, there are two events – the 4th Annual Run Wild and the Ride Wild (which was rescheduled from earlier this year). If you are in the mood for a nine mile, four mile, or a 1K color family run sign up for the Run Wild. The inaugural Dirty 40 Ride Wild is for those who prefer either a 13 or a 30-mile bike loop over a variety of road surfaces. No matter the event, celebrate afterwards with music, food, beer, bouncy houses and more. For additional information, visit www.racewildcolorado.com.
Walk, run or crawl at the 5K Run Dead, but do not let a zombie steal one of your flags! Arrive early and stay late on September 19 in Parker and enjoy a corn maze, pumpkin patch, haunted maze and concessions. No worries about getting zombie cooties. Zombies can only grab flags and not touch or tackle runners. For more information about the zombie-infested course and event specifics, visit www.5krundead.com.
Ever dream of trying a two-mile cross-country run through a forest, passing through open fields, traversing over hay bales, crossing creeks all while carrying a pumpkin? Of course you have, and The Great Pumpkin Haul meets all of those requirements and more. Head on over to Chatfield Botanic Gardens on October 24 to pick your pumpkin (which is included in the race entry fee) and harvest some memories, but remember to choose that pumpkin wisely! Let the fun continue afterwards at the fall festival with pumpkin brews, cider, music, and food trucks. To learn more about the event, visit www.thegreatpumpkinhaul.com.
This year, do not fall into autumn. Instead, grab those sneakers, and run into the season head on with one of these fun, family-friendly events.