March 1, 2019
/
/
Comments Off

on BRE Jumps for heart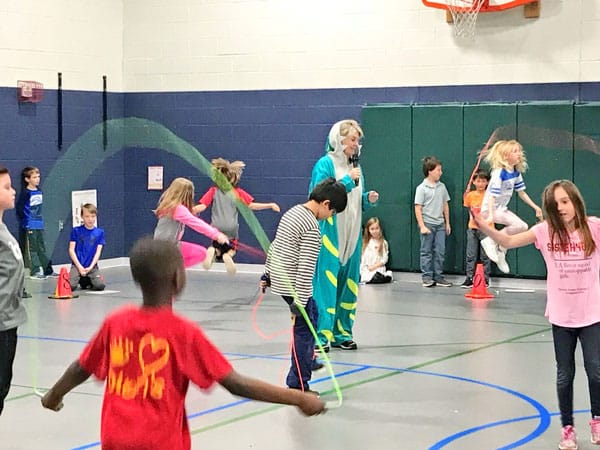 BRE PE teacher Ronda Gutierrez dressed up to encourage students to jump rope for heart on Valentine's Day.

Article and photos by Celeste McNeil
Buffalo Ridge Elementary (BRE) commemorated Valentine's Day in the typical fashion with class parties, exchanging valentines and lots of red and pink. They also celebrated healthy hearts by participating in the American Heart Association (AHA) Kids Heart Challenge. All grades, kindergarten through fifth, participated in organized jump rope activities.
PE teacher Ronda Gutierrez, music teacher Cathy Deneault and art teacher Tim Ryckman led each grade level through several rounds of 30-second timed jump rope rotations. Music like "I Like to Move It" by Reel 2 Reel, best known from the "Madagascar" movies and "Jump" by Kris Kross thumped through the gym as students jumped their hearts out. Students also competed in "last boy and girl standing" – the goal to jump as long as possible without stopping or miss-stepping.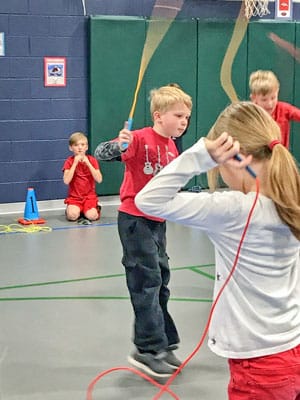 Second-grader Caleb M. jumped during BRE Kids Heart Challenge fundraiser for the American Heart Association.
This is the 19th year BRE has participated in fundraising for the AHA. Gutierrez told students of BRE's proud tradition of helping the American Heart Association while staying active and having fun in the process. "Every year Buffalo Ridge is always a top fundraising school," she said. The students excitedly participated and showed exemplary sportsmanship during rotations and competitions. Students waited patiently for their turn. Cheers, high-fives and smiles were shared between friends. Caleb M., a second-grade student said, "I really liked jumping rope because I got to be active and have fun with my friends. It feels good knowing that I'm helping other people." BRE raised more than $12,000 for the AHA.