BRE students thank veterans
December 1, 2020
/
/
Comments Off

on BRE students thank veterans
By Celeste McNeil; photos courtesy of Kelli Weinreich
This Veterans Day, students from each grade at Buffalo Ridge Elementary took time to recognize the service our veterans willingly give to our community and nation. The effort was spearheaded by physical education teacher Kelli Weinreich. "I asked if classes wanted to make Veterans Day cards. I thought it could be a really special way for our community to say 'thank you' to the men and women who put their lives on the line for us and our country."
Many classes participated during the day in their own classrooms. Weinreich collected more than 250 finished thank you notes. Some students drew pictures, others wrote letters or cards.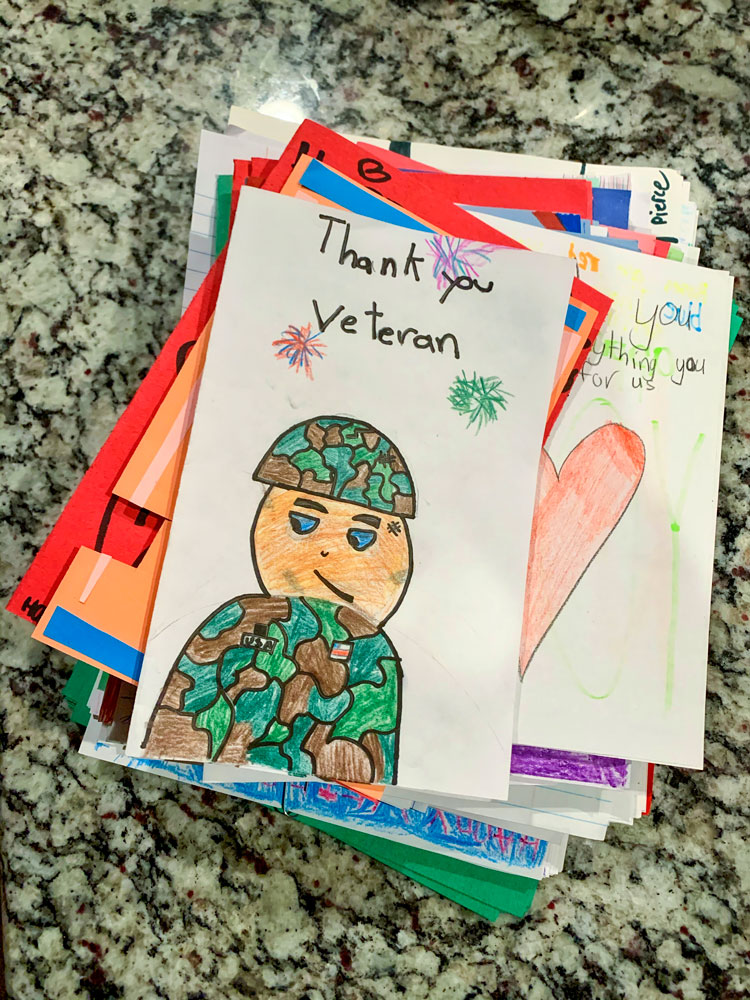 Mrs. Byrd's first grade class eagerly wrote notes and drew pictures for soldiers. They talked about how each branch of the armed forces keeps the United States safe. Byrd explained the service of our veterans in concepts the young students could relate to. "I told them about my two sons who are in the National Guard and Air Guard. We talked about deployment and related it to the students' parents traveling for work. The kids really seemed interested, very compassionate and understanding of how veterans help keep us safe," said Byrd.
Student Zoey M. wrote, "Dear Soldier, Thank you for protecting our country and keeping me safe. Thank you for our freedom."
Weinreich, whose husband is in the Army, drove to Fort Carson after school on Veterans Day. She was able to hand deliver most of the cards and visit several different units. Weinreich was proud to share the thanks of the BRE community with those stationed at Fort Carson. "The soldiers I was able to give cards to were very grateful and enjoyed the fact that a child took time to think of them!" Her husband, Neil, took the remaining cards to work with him on Thursday and hand delivered them to fellow soldiers in his unit.
Like many in our community with veterans or family members in active duty, Veterans Day is important to Weinreich and her family personally. "I get to see firsthand the sacrifices that soldiers make," she said. Zoey M. summed it up when she said, "It feels happy to say thank you."