Buffalo chicken wings: where did they begin?
November 1, 2020
/
/
Comments Off

on Buffalo chicken wings: where did they begin?
By Lisa Nicklanovich; photos courtesy of Sarah Tierney
"Anchor Bar wings are the gold standard of wings," exclaimed resident Sarah Tierney. Tierney grew up in Buffalo, New York, where Buffalo chicken wings began (but in Buffalo, they are known simply as "wings"). The name for the ubiquitous sauce and wings, therefore, has nothing to do with Buffalo or Bison, but rather the location of Frank and Teressa Bellissimo's bar.
The Tierneys are Anchor Bar loyalists who visit every time they go back to Buffalo to visit family. For special occasions, the Tierneys will have chicken wings shipped to their home in Castle Pines. Sarah's mom and sister send wings too so they don't have to go too long without them. Not only do the Tierneys have Anchor Bar T-shirts, but they own large chicken wing hats from the store. One of Tierney's sons used the hat as part of a chicken wing costume one Halloween when he was at Buffalo Ridge Elementary School. "I'll never get rid of those chicken wing hats!" Tierney exclaimed.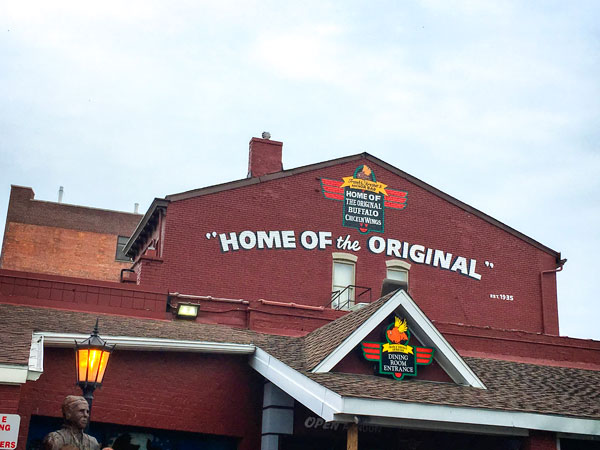 The story of how the famous wings began goes back to 1964 when Anchor Bar received a large delivery of chicken wings instead of the backs and necks they were expecting. Teressa had to find a way to use the wings so they wouldn't go to waste. The delivery mistake made Teressa get creative in the kitchen, broiling the wings and then smothering them in a special, homemade hot sauce. Teressa served the wings with a side of celery and bleu cheese dressing to cut the heat of the wings.
When the Buffalo Bills football team made it to the Super Bowl in four consecutive seasons from 1990-1993, media outlets covering the team and city featured local highlights and food. The spicy chicken dish became known as Buffalo Wings and football fans forever forward have made them a traditional snack to enjoy while watching football.
The original Buffalo Wing sauce contained melted butter and a vinegar-based cayenne pepper hot sauce. It is claimed that Frank's RedHot sauce was the secret ingredient used in the original. Traditionally, the wings are deep-fried and then tossed with the sauce.
The term "Buffalo" is now attached to other food items that are seasoned with the hot sauce like Buffalo shrimp or Buffalo pizza. Over time, restaurants served the wings and chains sprung up like Buffalo Wild Wings and Golden Flame Hot Wings, which has a location in Castle Pines.
Scott Ulrich, owner of the Castle Pines Golden Flame restaurant said, "Our Flaming sauce is our traditional buffalo-style sauce," and he added that the franchise keeps the wings authentic. Tierney exclaimed, "Getting any other sauce on a wing to me is sacrilegious!"