Carriage rides, other community events face uncertain future
February 1, 2009
/
/
Comments Off

on Carriage rides, other community events face uncertain future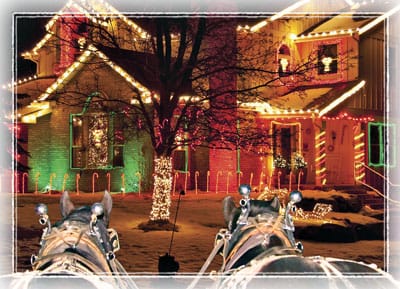 by Lane Roberts
Budget cuts and the recent HOA annual dues reduction by the Castle Pines North (CPN) Master Association board of directors could potentially warrant the elimination of many community events.
The holiday carriage rides, which sell out yearly, are just one of social events that will no longer be organized by the Master Association. For more than 10 years, the Master Association has organized and sponsored annual community-wide events including: garage sales, Easter egg hunts, summer concerts and picnics, summer movies, and the holiday carriage rides.
According to a letter distributed by the CPN Master Association board in the 2009 invoices, social events were reduced in the new budget. "This was acheived primarily by changing our focus from planning and conducting events to that of sponsoring events conducted by other entities within the community." The letter also stated that there are, "allowances for both summer and winter events, which will be determined as the year progresses."
"We are extremely disappointed that the board is choosing to discontinue the activities that make our community special. We would actually happily pay a little more in order to have these activites continue," said Joanna Mitchell, a Daniel's Gate resident participating in the holiday carriage rides. "Having fun things like this to do allows us to have some special family time and build memories."
Some residents, however, support the $8 a month dues reduction by the CPN Master Association. In a recent Master Association meeting, the board indicated that no one has complained about the dues reduction.
The board reduced annual dues from $216 in 2008, to $190 for 2009. Seventy percent of the annual dues paid to the Master Association are contributed to the Castle Pines Parks Authority to help fund future parks in CPN. Dues contributions to parks decreased from $151.20 per year per home to $133.00 in 2009.
As of press time, the Master Association board had not determined what social events, if any, they would help fund for 2009.
Currently, there are no summer events planned for CPN. The Castle Pines Chamber has also eliminated the Market in the Pines events typically held monthly from June to September due to lack of participation from the community. Send comments or questions to editor.