Castle Crocs Return for Fourth Season in CPN
February 1, 2009
/
/
Comments Off

on Castle Crocs Return for Fourth Season in CPN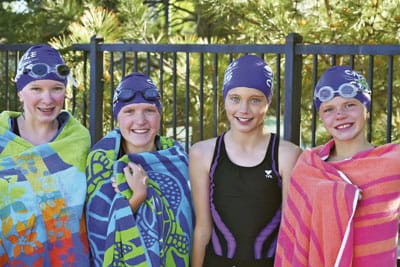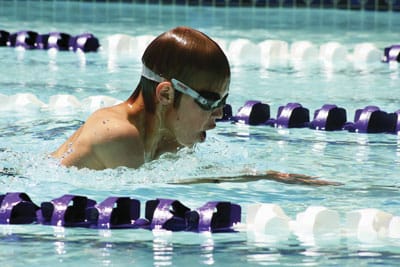 by Carin Kirkegaard; photos courtesy of Renita Mundwiller
The past three summers have found the children of Castle Pines North (CPN) connecting with friends, getting exercise, and learning swim strokes with the neighborhood swim team the Castle Crocs. As the team begins its fourth season, swimmers can expect to return to a swim program that offers strong technical swim instruction in a positive fun environment.
"From the moms and dads that meet for a bike ride after dropping the kids at the pool for practice, to those parents that stay and chat with neighbors, to home meets with a D.J. who takes requests from the swimmers, the Crocs pride themselves on bringing the community of CPN together," said Kathleen Steffe, Castle Crocs parent representative.
This season the Crocs will welcome a new head coach. Coach Paul Whitaker is the age group coach for the Rock, a year-round competitive swim team. Whitaker also teaches fifth grade in the Douglas County School District. A life-long swimmer, Whitaker loves the sport and views coaching as a way to give back.
"Swimming promotes intrinsic motivation. While in the water, the swimmer only has his or herself to listen to. This is a great opportunity to learn self motivation. Thanks to swimming, I have learned to stay focused and motivate myself and manage the things that are in my control and perform to the best of my abilities. Through coaching, I look forward to passing this skill onto the swimmers of the Crocs," said Whitaker.
"Coach Paul has helped me get some of my best swimming times yet," said Abby Kochevar, a CPN resident and swimmer with both the Crocs and the Rock. Kochevar, age 10 was selected to represent the state of Colorado at the Midwest Regional All Star Meet.
The Crocs will hold registration for returning families on February 8, from 3 p.m. until 5 p.m. at the Forest Park clubhouse located at the corner of Forest Park Drive and Forest Ridge Circle. Any family not able to make registration can contact Steffe.
Registration for new swimmers will be held February 22 at Safe Splash Swim School from 1:30 pm until 3:30 pm. Swimmers should come prepared to demonstrate that he or she can swim the length of the pool in any manner without grabbing the side of the pool, or touching the bottom. The Castle Crocs will take any swimmer that lives within the City of Castle Pines North and is between the ages five to 18.
To learn more about the Crocs, visit their website at www.castlecrocs.com.