Castle Pines Athletics launches third year of local sports
February 1, 2011
/
/
Comments Off

on Castle Pines Athletics launches third year of local sports
Castle Pines Athletics soccer players take a break to hang out after a game last fall. Playing with friends, neighbors and classmates
is partof what makes Castle Pines Athletics so special.
Submitted by Lane Roberts, Castle Pines Athletics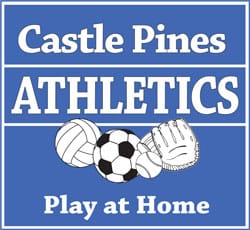 Beginning in March, Castle Pines Athletics will kick off its third consecutive year of bringing sports to local families.
"My family has played for Castle Pines Athletics since it's first season. My children have learned the basics of soccer, baseball, and basketball," said Castle Pines resident Joanie May. "The kids have developed a love of sports and Castle Pines Athletics has made this a much stronger community."
May says she has always had great coaches who were very patient and really helped her children improve at their sport. "The teams my children have played for have been made up of families from the kids' schools, and I have gotten to know many of the parents in my kids' classes by sitting with them at the games."
Spring programing will continue to offer recreational co-ed soccer for children ages 4 to third grade. The spring soccer season runs March 28 to May 21. As always, all practices and games are held at neighborhood fields in the City of Castle Pines.
The spring season will also bring two new programs to the community. Castle Pines Athletics is pleased to announce the addition of a new boys pitch baseball program and a girls developmental/competitive soccer program for third and fourth graders.
Local resident and former pro baseball player Jason Woodring has been named as the boys pitch baseball coordinator for 8 to 11 year olds. He will be leading the new baseball program, which is designed as a step-up from traditional coach-pitch baseball. "This program will be 'real baseball' with real umpires," said Woodring.
The new baseball program is set to begin March 14, with weekday afternoon practices and weekend games. It will feature umpires officiating 12 games, with a final tournament set for June 4-5. All practices and games will be held in the Castle Pines community. Additional coaches are needed for the program. The deadline to register for spring baseball is February 15.
The new girls-only developmental/competitive soccer program is set to begin March 28 with a registration deadline of March 1. All practices are held at one of the three neighborhood parks in Castle Pines – The Retreat Park, Coyote Ridge Park or Daniels Gate Park, and coaches choose the practice day and time for each team (4:30 p.m., 5:30 p.m., or 6:30 p.m.). Practices are one hour. All games are held on Saturday OR Sunday afternoons in Castle Pines. Volunteer Coaches are needed. Each game will be one hour and will have a referee.
According to Lane Roberts, founder of Castle Pines Athletics, the two new programs evolved to meet the growing needs of the children who have outgrown Castle Pines Athletics since it first began in the spring of 2009.
"Our kids are growing, so we are looking to create a place for them to continue their local sports program," said Roberts. "We want to be able to grow along with them and help keep sports at home in Castle Pines."
Both programs are designed to be a "step up" from recreational programs typically offered by Castle Pines Athletics.
"Often, children want to play soccer or baseball, but they can be intimidated by larger programs," said Roberts. "We hope these programs will allow them the opportunity to play here at home in Castle Pines."
To learn more about Castle Pines Athletics, visit www.castlepinesathletics.com.