Castle Pines Chamber sparkles with success
March 1, 2013
/
/
Comments Off

on Castle Pines Chamber sparkles with success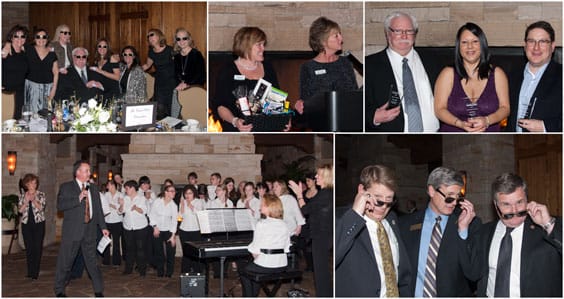 The Castle Pines Chamber of Commerce "Sparkling with Success" Annual Banquet was held at Sanctuary on Thursday, January 24. Pictured above (top row, left to right): Castle Pines Connection staff members celebrating "Godfather" style; Chamber staff members Carla Kenny and Sharon Kollmar; Award recipients Tim Gamble, Kyra Hahn, and Dr. Jason Ortman; (Bottom row, left to right): Meteorologist Dave Fraser with the Wellspring Community Choir; and Colorado Senator Mark Scheffel, County Commissioner Roger Partridge, and Sheriff David Weaver in cool shades.
Article by Elean Gersack; photos by Jeremy Gamble, Elean Gersack, and Amy Shanahan
On Thursday, January 24, the Castle Pines Chamber of Commerce held its fourth annual awards banquet. This year's event, Sparkling with Success, took place at the beautiful Sanctuary and was emceed by local resident and Chief Meteorologist Dave Fraser of KDVR FOX 31 News. With plenty of bling and lots of laughter, it was a sparkling night for sure.
A special welcome to the evening came from the beautiful sounds of the Wellspring Community Choir singing "God Bless America" and "You Raise Me Up" as attendees enjoyed bidding on silent auction packages and mingling with friends and associates. Newly-elected County Commissioner Roger Partridge and State Senator Mark Scheffel were both in attendance and each spoke individually to the audience about a resurgence of the economy in Douglas County.
Chamber staff presented several awards during the evening. Kyra Hahn of Douglas County Libraries was named Ambassador of the Year; The Castle Pines Connection's very own Tim Gamble was recognized as Citizen of the Year (and was rendered speechless for the first time ever); and Dr. Jason Ortman was named Business Person of the Year.
According to outgoing Chamber Chairman Glenn Hagen, the highlight of the evening was the award of Business Person of the Year to Jason Ortman, O.D., owner of Castle Pines Eyewear. "He has quietly supported the community for years; served on the board, advancing thoughtful comments; and took the bold move to join with other medical professionals to commence construction of a new professional building adjacent to Walgreens," he added.
According to Chamber President Sharon Kollmar, the chamber's main mission is to promote a vibrant business community and notes that it is thriving, thanks to its active membership. The annual banquet is a celebration of the prior year's success and a look forward toward the coming year. "We continue to make a difference in our community," added Kollmar.
At the end of the evening, Hagen thanked board members for individual and collective contributions to the success of the Castle Pines business community and also welcomed new chairperson, David Weaver. "The chamber anticipates building the pride and respect which Castle Pines deserves, a unique city in the heart of Douglas County," said Hagen.
The 2013 Castle Pines Chamber of Commerce Board of Directors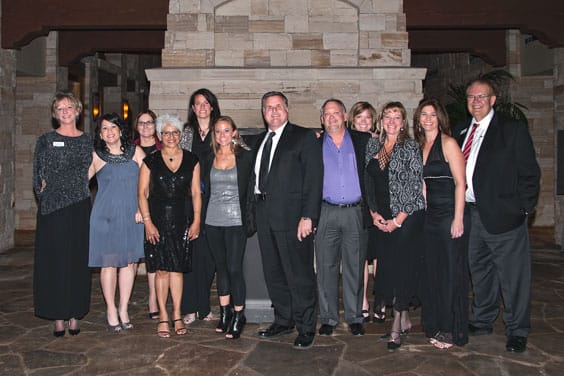 Pictured left to right: Chamber President Sharon Kollmar; Tammy Lopez, Tammy Lopez Insurance Agency; Cathy Anderson, Parabelle; Yolanda Bruce, BYG Promotions; Terri Wiebold, The Castle Pines Connection; Nicole Moses, The UPS Store; Sheriff David Weaver, Douglas County Sheriff's Office; Steve Meyer, Colorado Benefit Advisors; Chamber Vice President Carla Kenny, Jodi McKillip, The McKillip Group CPAs; Cherie Ellingson, Douglas County Libraries; Glenn Hagen, Law Office of Glenn W. Hagen, P.C.; Not pictured: Donna Holtzmann, Rocky Mountain PBS; and Jonathan James, Animal Care Center of Castle Pines.
Visit www.castlepineschamber.com to learn more about the Castle Pines Chamber of Commerce.