Castle Pines girls shootin' lots of hoops at RCHS
January 1, 2013
/
/
Comments Off

on Castle Pines girls shootin' lots of hoops at RCHS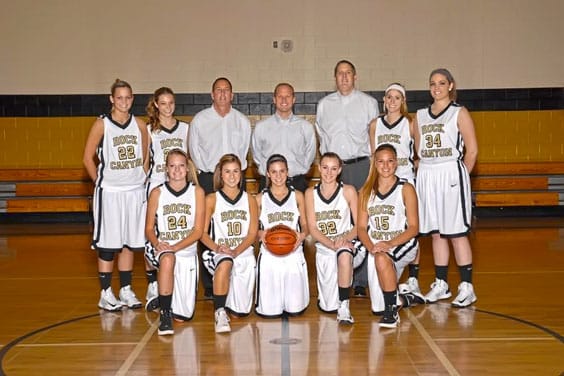 The RCHS girls varsity basketball team is off to a great season with Castle Pines residents #34 Morgan Roos, #22 Lexy Thorderson, and Castle Pines Village resident #23 Paige Von Bank.
Article by Kathy Dunker; photo courtesy of the Roos family
The 2012-13 Rock Canyon High School (RCHS) girls varsity basketball season is underway. The season began with a 69-28 win over Arvada West and has continued to go strong. Castle Pines' own #34 Morgan Roos and #22 Lexy Thorderson are both starting juniors on the team, which also includes first year sophomore, #23 Paige Von Bank, who resides in Castle Pines Village.
The RCHS team has continued to improve its program every year and finished last season with a 19-6 record. The team plays an up tempo style, which is fun for the players and is also fun to watch.
Said head coach Robbie Ballard, "The season is progressing well. We played our fourth game of the season last night [December 17] against Ponderosa. We played well and we won!"
At the Rock Winter Tournament last month, the team finished in second place. After making it to the championship, the Jags lost to Arapahoe, who is ranked second in 5A. RCHS hung tough in the beginning and was at a five point deficit at half-time. The Jags came out and had a rough third quarter in which they were outscored by 13 points in the quarter and ended up losing by 20.
Ballard commented about the local players, "Thorderson is coming off an ACL tear which limited her time last year, but she has made a full recovery, and I am excited to see what kind of a year she will have. She is a versatile player and is a true leader on our team. Roos is a big presence inside, she has the potential to be one of the best post-players in the state if she can stay healthy and continue to improve. She adds an element to our team that we have not had in years past. Von Bank adds good height to our team and is learning her role. I have been very happy with her progress thus far."
Ballard continued, "We are excited about the kids we have on the team this year. We are returning a strong junior class and have a group of sophomores that will get plenty of experience this year. There are no seniors on the team so it is a great opportunity for this group to improve individually and as a whole. This will be the best team we have ever had at Rock Canyon from a talent and chemistry perspective. All the team members are unselfish and willing to help each other out."