Community Protection Planning for Wildfires
April 1, 2009
/
/
Comments Off

on Community Protection Planning for Wildfires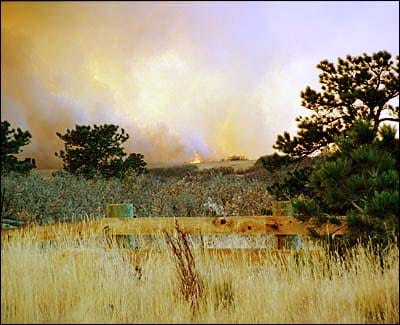 Cherokee Ranch Fire – October 29, 2003
Submitted by Becky O'Guin
Community Relations Director
South Metro Fire Rescue Authority
The South Metro Fire Rescue Authority (SMFRA) will be expanding its Community Wildfire Protection Plan (CWPP) to the I-25/Santa Fe corridors and surrounding areas and would like to invite community members to attend a public meeting: Wednesday, April 22, 2009, from 6:30 p.m. to 8:30 p.m. at the Castle Pines North Community Center (7404 Yorkshire Dr.).
The CWPP is an important planning tool that will assist SMFRA in identifying communities that are at risk from wildfires so that we can target our education and mitigation efforts. Having an over-arching fire department CWPP also lays the groundwork for individual communities to become activated, begin to evaluate their specific hazards, and take steps to protect their communities.
A critical aspect in developing this CWPP is community involvement where the fire department and citizens work together to understand the hazards, establish priorities, and build a partnership that will last for years to come. Several funding opportunities (grants) may also be available to communities involved with the CWPP process. Therefore, we'd like to invite you and your community members to some important meetings coming up that will provide the background on this planning process and get your input.
We appreciate your interest and assistance in making this a successful partnership. If you have any questions, please contact Assistant Chief Michael E. Dell'Orfano at (720) 989-2232 or Cheryl Poage at (720) 989-2260.