Dressing for success in Castle Pines
April 1, 2013
/
/
Comments Off

on Dressing for success in Castle Pines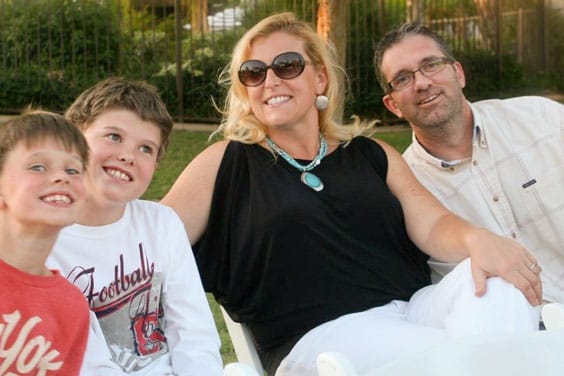 Castle Pines resident Kelly McAlear, here with her family, helps clients find perfect fitting clothes that "work with what they already have in their closets."
By Lisa Nicklanovich; photo courtesy of Kelly McAlear
Style consultant Kelly McAlear of Castle Pines has joined a customer-focused business that brings custom luxury menswear direct to its clients, and she is having a ball doing it!
McAlear has lived in Castle Pines since 2006 and balances being a wife and mom to her two boys with working part-time as an aide in the school district. A friend who was visiting suggested McAlear look into a new opportunity, one which would allow her to earn extra money while meeting new people and dressing them for success. McAlear embraced the opportunity with J. Hilburn custom men's clothier and said, "I love that I am able to get to know people in my community, provide them with a high quality product, and not miss out on time with my friends and family."
The process begins with a personalized in-home fitting where McAlear can assist her male clients with choosing every detail of their new custom shirts, from hundreds of high quality fabric options, to buttons, collar, cuffs and even the thread for the stitching. McAlear orders and personally delivers the first shirt, making sure the sizing is perfect, then more can be ordered and delivered directly to her client. Shirts take about three to four weeks and range in price from $99 to $159.
Not only does this business fit into McAlear's lifestyle and customer service background, but she claims, "it's a great way to keep my husband outfitted in well-tailored, quality, fashionable and affordable clothing."
McAlear explains that J. Hilburn has expanded beyond dress shirts to include made-to-measure trousers, personalized suits and off-the-rack sweaters, jeans, golf shirts, belts, and ties.
McAlear laughs as she adds, "My husband is a ROI (return on investment) man first and foremost, and as far as his clothing goes, J. Hilburn has been by far the best ROI that we have found."
If you are interested in more information, e-mail or call McAlear at 720-292-8649. To learn more about J. Hilburn, visit www.jhilburn.com.