April 1, 2013
/
/
Comments Off

on Fun and family!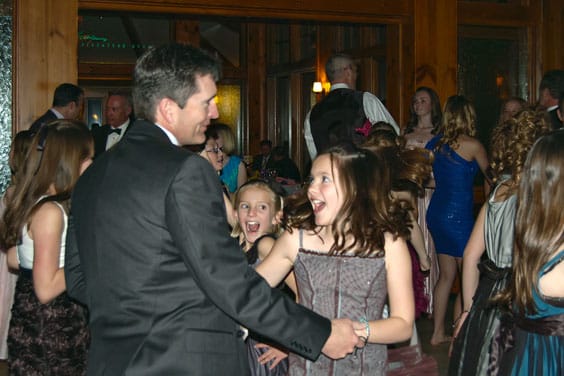 Scot Chadwick and his daughter Essa had a blast on the dance floor during the Father Daughter Dance at The Country Club at Castle Pines. The dance has become a fun annual tradition for many members and their guests.
Article and photo by Amy Shanahan
The Macarena and Gangnam Style were just two of the fun dances that dads and their daughters enjoyed on March 2 at the annual Father Daughter Dance at The Country Club at Castle Pines (CCCP). The evening is one of the most popular events at the club, and dads look forward all year to sharing this special evening with their daughters.
The theme this year was "Candy Land" and the clubhouse was decorated beautifully with pink and white table linens, candy centerpieces, huge candy displays, and a large pink and white balloon arch at the front of the dance floor. The younger girls in attendance enjoyed the work of two balloon artists, and a professional photographer captured the memories. A wonderful buffet – featuring grilled New York strip and tempting side dishes for the adults and chicken fingers, pizza, and mac and cheese for the younger girls – filled everyone up and gave them energy to dance throughout the evening.
Eleven-year-old Lexie Lee has been attending the event with her dad Louie for the past nine years, and they both enjoy the tradition. "I like watching all the dads and daughters go crazy dancing together," remarked Lexie. "I also love that nobody cares if you're a bad dancer or not. You just let it all out with your dad."
Many of the girls wore special dresses and had their hair styled for the occasion, and each daughter received a special bracelet to commemorate the evening.
The Father Daughter Dance is only one of many events hosted by the CCCP. For membership information, call Brian Nishi at 303-660-6807 or e-mail bnishi@ccofcastlepines.com.
To view a slideshow of the photos from the evening, visit www.castlepinesconnection.com and click on "Photo Album."