Girl Scout troop earns the Bronze Award and helps the Buddy Center
March 1, 2018
/
/
Comments Off

on Girl Scout troop earns the Bronze Award and helps the Buddy Center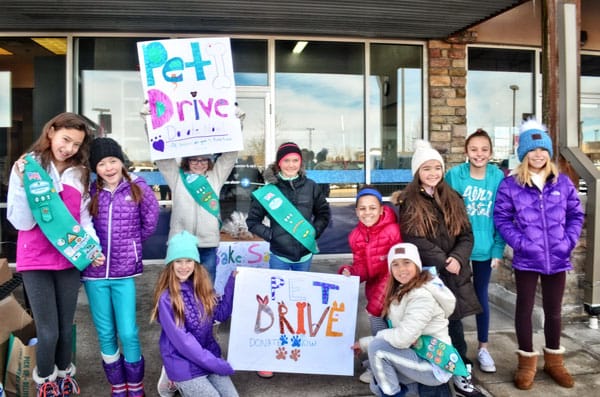 Troop 91 (left to right) back row: Amelia S., Izze P., Tori G., Morgan M., Sophie A., Natalie X., Lillian F. and Kate S.; front row: Aimee B. and Chloe F. (Not pictured: Sienna D. and Taylor D.)
By Susan Helton; photos courtesy of Jennifer Greer
American Academy (AA) Girl Scout Junior Troop 91 braved the chilly weather January 27 to hold its Pet Donation Drive and Pet Bake Sale at The Animal Center of Castle Pines. The girls offered homemade pet treats for purchase and collected much-needed items such as towels, blankets and shoe boxes, for the animals in the Denver Dumb Friends League (DDFL) Buddy Center, a full-service shelter in Castle Rock that offers adoptions, lost-and-found services and humane education classes for the public.
The donation drive and bake sale was the culmination of the troop's work toward its Bronze Award, which is the highest honor a Girl Scout Junior can achieve. Girl Scout Juniors are girls who are in grades four and five. The Bronze Award challenges these girls to work together to take action to make a positive impact in their communities. The award is the first of three such awards that Girl Scouts can earn and represents the big things that Girl Scouts can achieve while working on an issue they care about.
To earn the award, the girls of Troop 91 spent about 20 hours exploring their community to discover ways to make a positive change, working together to choose their Take Action project, planning the project and putting their plan in motion. "It was rewarding as a troop leader to facilitate their community discussions, help them choose their project and watch them put their plan together," stated Jennifer Greer, troop leader.
The donation drive was a big success. "We filled two full size SUVs with supplies to take to the Buddy Center," said Greer. "They couldn't believe that the girls collected it in the afternoon. We have a very supportive community! We would love to thank The Animal Center of Castle Pines for letting us hold the event in front of their grooming door."
And what are these busy Girl Scouts working on next? They are participating in the Girl Scout cookie program, which runs through March 11.
To learn more about the Girl Scouts of Colorado and the awards that Girl Scouts can earn, visit www.girlscoutsofcolorado.org and www.girlscoutsofcolorado.org/en/our-program/highest-awards.html. For more information about the Girl Scouts of Colorado cookie program, visit www.girlscoutsofcolorado.org/en/cookies/about-girl-scout-cookies.html. To learn more about the DDFL Buddy Center, visit www.ddfl.org/buddy-center.

Troop 91, represented here (left to right) by Taylor D., Natalie X. and Tori G., was able to give one of the largest single donations the Buddy Center has received.