Give thanks for turkey all month long
November 1, 2022
/
/
Comments Off

on Give thanks for turkey all month long
The weather has now turned and the days have grown short. There is real wisdom in the idea that our darkest days are filled with celebration to give us all a reason to smile in the face of what might otherwise seem bleak. I, for one, am already mapping out the feasting I will do soon, setting my taste buds on fluffy stuffing, creamy mashed potatoes and tender roasted turkey. Fun fact: the turkey was very nearly the national bird, rather than the bald eagle, but given how much I love to eat it, I'm glad that the humble turkey wasn't granted that protected status. And while the roasted turkey is perfectly at home amidst all the decadence of a holiday buffet, there's no need to eat it only for special occasions.
Regular readers of this column will remember that I shared a recipe for a Crock-Pot roasted turkey breast a few
years ago. Cooking just the turkey breast – whether in the slow cooker or in the oven – means I can eat turkey to my heart's content before, during and after the holiday season. A warm slice of turkey breast accompanied by some simply roasted potatoes and Brussels sprouts is easy enough for a weeknight dinner, and nutritious to boot.
Turkey is a lean choice that weighs in at just over 100 calories for a four-ounce serving. Even though it feels indulgent, it's a completely reasonable choice for a variety of eating styles.
As much as I love a traditional turkey dinner, though, what I truly love the most is a perfectly constructed turkey sandwich. So, some of the time when I cook up a turkey breast, instead of roasting veggies and other sides, I create a palette of sandwich fixings. There is nothing more satisfying than turkey piled high on a fresh loaf of country white bread, with just the right combination of dressings and veggies
On Thanksgiving day, I'll take the time to concoct my own cranberry sauce, whisk drippings on the stove to make gravy, and pull together a nut and berry-studded stuffing. On a regular Tuesday, though, cranberry sauce from a can and gravy from a jar fit the bill just fine and I usually omit the stuffing altogether.
Using ordinary ingredients doesn't mean a final product that is bland or boring. I occasionally whip that canned cranberry sauce with cream cheese for a spread that adds a creamy tang that pairs wonderfully with the savory turkey. In the recipe I'm sharing here, regular old mayonnaise and cold store-bought gravy are combined with a dash of soy sauce for a saucy-drippy punch of umami that elevates a humble sandwich to a meal that tastes celebratory and special. It also tastes great drizzled over roasted potatoes or even French fries if that's your side of choice.
Creating a selection of fixings for your turkey sandwiches means that everyone can eat precisely the ingredients they like, in exactly the proportions they enjoy. A feast like this that will satisfy pretty much everyone and is easy enough to work into your regular meal rotation, which means you'll have reasons to give thanks all month long.
Turkey sandwiches with gravy mayo
• Roast turkey breast –homemade or store-bought
• Sliced tomatoes
• Lettuce leaves
• Whole berry cranberry sauce
• Sliced country white bread
• ½ cup mayonnaise
• 1 cup gravy, chilled
• 2 Tablespoons soy sauce
In a small bowl, combine cold gravy, mayonnaise, and soy sauce. Serve alongside the rest of the sandwich ingredients, assembling sandwiches in any combination you desire.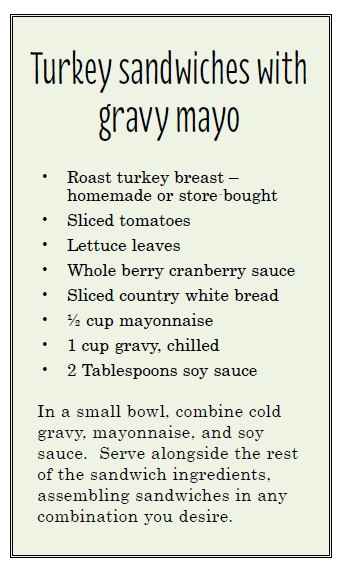 Article and photo by Lisa Crockett