Leading Edge Physical Therapy expands services; clinic
January 1, 2013
/
/
Comments Off

on Leading Edge Physical Therapy expands services; clinic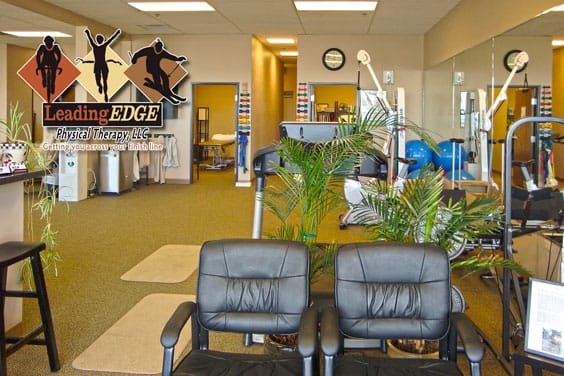 Leading Edge Physical Therapy, located in the King Soopers shopping center in Castle Pines, has expanded their space and services.
By Elizabeth Wood West
The New Year is always a great time to focus on improving health and wellness. Leading Edge Physical Therapy in Castle Pines has been helping its patients achieve their best in these areas for the past three years, and is taking its services to a new level in 2013 by expanding into a wellness clinic.
Leading Edge just finished remodeling its clinic in December and doubled its current space to make room for new staff members, services, and a growing patient list. Leading Edge is located at 7280 Lagae Road, Unit F, in the King Soopers shopping center in Castle Pines.
The staff includes owner Sara Tibby, M.S.P.T. and certified bike fitter; owner Sharon Wheeler, operations manager and certified yoga instructor; Jen Hide, P.T., D.P.T., personal trainer, massage therapist, and certified pilates instructor; Kevin Englund, P.T., D.P.T.; Scott Stein, P.T., certified cycling coach and certified retul bike fitter; Joan Emanuel, physical therapy aide; Jamie Parsons, physical therapy aide; Holly Jacob, physical therapy aide; Dylan Tibby, physical therapy aide; and Heather DeWitt, massage therapist.
The clinic specializes in physical therapy, trigger-point dry needling, personal home training programs, bike fitting, pilates, yoga, and massage. Wheeler said, "Since we are a sponsor for two major triathlon clubs in the area, we want to not only help with injuries and rehab, but also with strengthening and conditioning on an ongoing basis. We are adding two more treatment rooms and a large gym area for pilates and yoga classes and bike fitting," she said. "We fly in a physical therapy specialist four days per month who specializes in neurofascial release and cranial sacral therapy; he is also a certified retul bike fitter. We have also hired a third full-time physical therapist and have our massage therapist available for appointments on Tuesdays – now that we will have more space," said Wheeler.
For further information or to schedule an appointment, contact Sharon Wheeler by e-mail, sharon@leadingedgephysicaltherapy.com or call 303-663-5552.