Lend your hands to a good "paws" at the Buddy Center
January 1, 2013
/
/
Comments Off

on Lend your hands to a good "paws" at the Buddy Center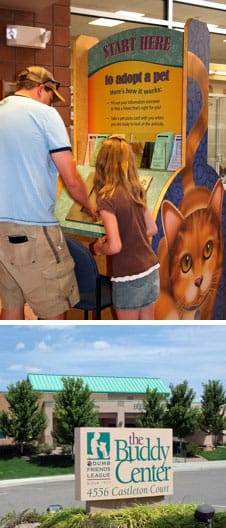 Above: Buddy Center patrons learn the adoption process. Below Visit the Castle Rock Buddy Center to find your family's new pet. Really, who saves who?
By Lynne Marsala Basche; photos courtesy of the Dumb Friends League
The Denver Dumb Friends League (DDFL) is the Rocky Mountain region's largest community-based animal shelter, and with its Castle Rock facility, the Buddy Center, there is no shortage of local volunteer opportunities for animal lovers.
Each year, the DDFL takes in approximately 25,000 animals who may have been abandoned, lost or abused. The DDFL is committed to providing shelter and care for dogs, cats, rabbits, other small animals and horses, as well as offering services and programs designed to educate people on the care, feeding, and general well-being of our four-legged friends.
While the DDFL has more than 1,000 volunteers, it is always in need of dedicated, caring individuals to help with its programs. If you are 16 or older and can make a commitment to volunteer for at least six months and three hours per week, the DDFL may be the place for you to share your love of animals.
Volunteer opportunities range from being an adoption counselor, to grooming the animals or assisting with clerical functions. You can choose to work behind the scenes or directly with the animals. There is also a junior volunteer program, which introduces 12 through 15-year-olds to working at the shelter two hours a month.
Volunteering at the DDFL lets you make a difference in animals' lives, as well as earn valuable community service hours (whether just for fun, court ordered, or for high school). If you would like to support the DDFL but cannot volunteer, think about making a tax-deductible donation, dropping off supplies, donating your vehicle, or honoring a loved one or a pet with a memorial gift.
To learn about volunteer opportunities, including the application process, visit www.ddfl.org.