Make a difference in a day
January 1, 2012
/
/
Comments Off

on Make a difference in a day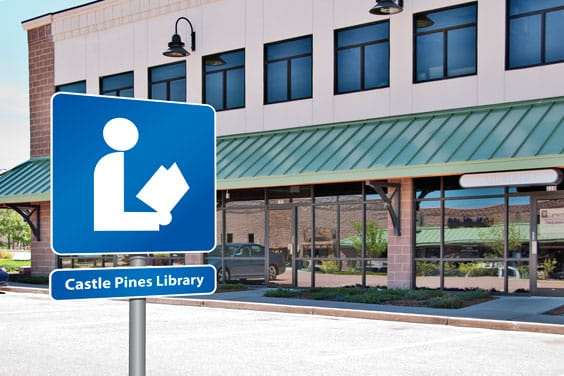 By Lisa Crockett
To start the new year off right, the committee to keep the Castle Pines Library in operation for the next three years is encouraging residents to give the gift of a library sponsorship.
"Going in to 2012, we are halfway to our fundraising goal of $100,000," said Warren Lynge, the Castle Pines resident leading the fundraising effort. "It has been six months since we started our campaign to provide for the final three years of our lease at the present location, and people have generously supported us thus far."
Fundraisers have included direct contributions, restaurant nights and "scrip" cards. Now donors have a unique opportunity to help the library and either promote a business or service, or honor a friend or loved one at the same time.
"For $100, an individual or group can sponsor the library for a day," said Carla Kenny. "A sponsorship of $100 would be a great gift for an anniversary or a birthday. It would also be a great project for community groups like book clubs or scout troops, or even just neighborhoods to pool their funds and sponsor the library."
Benefits of a $100 sponsorship include an acknowledgement of the sponsoring group or individual via video presentation on the library's flat-screen television, which will run all day long on a continuous loop and can include messages and photos or logos of the sponsor's choosing. Donors will also receive a thank-you letter from Douglas County Libraries Director Jamie LaRue and a mention as a sponsor on the Library's 2012 donor acknowledgement page.
Sponsorships at higher dollar amounts are also available and feature additional benefits. For example, $1,000-level sponsors will be listed on library check-out receipts. This is a great way for a business to gain name recognition every time a library patron checks out a book or movie.
Sponsorships are available in amounts ranging from $100 to $25,000 with unique benefits at each level. Sponsorships can be purchased now, and will begin being displayed at the library on January 1.
"I think there is a misconception out there that fundraising for the library is finished," said Kenny. "The reality is that we've made great progress, but we still have a way to go. The other thing to remember is that all donations to the Castle Pines Library are eligible for matching funds from the City of Castle Pines up to $25,000 [in addition to the $25,000 the city has already donated.]"
In addition to sponsoring the library, donors can also look forward to a pancake breakfast on January 21 from 7 a.m. until 10 a.m. at Applebee's (390 Allen Street, Castle Rock.) Tickets are $7 and can be purchased at the library. Local restaurants are again stepping up to the plate and sharing a portion of their profits on designated days: Las Fajitas on January 24 from 11 a.m. until 9 p.m. and La Dolce Vita on February 7 from 11 a.m. until 9 p.m. Other restaurant events will be held in the coming months, and a 5k/10k fun run will be held in the fall.