National Girls & Women in Sports luncheon honors student athletes
February 1, 2015
/
/
Comments Off

on National Girls & Women in Sports luncheon honors student athletes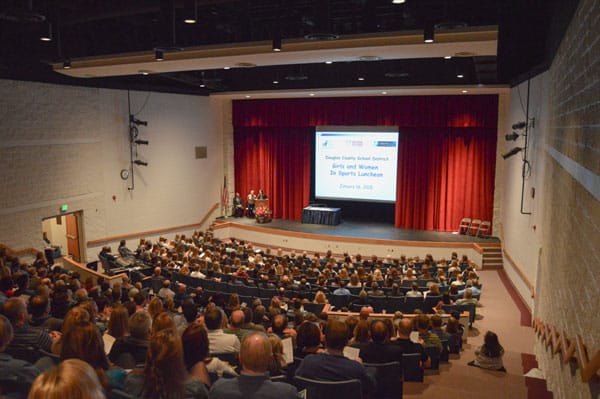 Student athletes, parents, coaches, administrators, family, and friends joined to celebrate the 108 student athletes honored at the ninth annual Douglas County Girls & Women in Sports luncheon held January 16 at Chaparral High School.
Article and photo by Maria Pangalos, RCHS intern writer; school portraits and bios courtesy of DCSD
Seven distinguished young ladies from Castle Pines were honored at the ninth annual National Girls & Women in Sports luncheon January 16 at Chaparral High School in Parker.
The Douglas County School District (DCSD) and the Douglas County Educational Foundation hosted the event in conjunction with National Girls and Women in Sports Day (NGWSD), which was chartered by the U.S. Congress in 1986 to honor female athletic achievement and recognize the importance of sports and fitness participation for all girls and women.
In 1987, a ceremony was held in Washington D.C. to commemorate Olympic volleyball player Flo Hyman for not only her athletic achievements, but her work to establish gender equality for women's sports. NGWSD has grown into a nationwide commemoration spanning all 50 states and is commemorating its 29th celebration with community-based events, award ceremonies, and activities such as this luncheon.
Every Douglas County high school nominated five seniors and every Douglas County middle school nominated seven eighth graders to receive the award. Pictured left are the recipients who reside in 80108! In addition, a coach honoree, two alumni honorees, and a distinguished guest honoree were also recognized.
Following a tasty lunch provided by DCSD catering services, Mistress of Ceremonies Julia Lopez (sports anchor/reporter for 9News in Denver) invited the recipients on stage and each were recognized for their individual accomplishments.
The overall feeling in the room was that of pride and achievement. Ranch View Middle School eighth grader McKenzie Maier stated, "It gave me a sense of accomplishment because I knew that all my hard work had paid off. It was such a wonderful experience and I hope to return as a senior athlete in high school."
Erika Maier, Mckenzie's step-mom said, "As a parent, I feel proud of Mckenzie's accomplishments and honored on her behalf to be recognized by her school and fellow student athletes."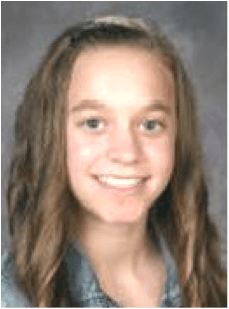 Mckenzie Maier, Ranch View Middle School
Mckenzie Maier is a basketball player. As a player, her constant leadership and dedication on and off the court are a great example.
Berit Erikson, Ranch View Middle School
Berit Erickson plays volleyball and her fantastic work ethic shows in her play and her attitude during games and in her schoolwork.

Paige Bosacker, Mesa Middle School
Paige Bosacker plays flag football, tackle football and basketball. She comes from a basketball playing family and has played for nine years.

Jasmine Ferdowsian, Mesa Middle School
Jasmine Ferdowsian is a volleyball player and loves the competition, which makes her improve her skills and fight to win games.
Brittney Hutchinson, Rocky Heights Middle School
Brittney Hutchinson is a volleyball player and is a cornerstone of the team, playing as a setter every minute of every game the past two years.
Kylie Hutchinson, Rocky Heights Middle School
Kylie Hutchinson plays volleyball and is a positive and skilled player who adds energy and enthusiasm to the team.
Courtney Lane, Rocky Heights Middle School
Courtney Lane participates in volleyball and basketball, and her coach says her hard work and love of her sport are demonstrated during every game.