Pass programs for 2015-2016 ski and snowboard season
October 1, 2015
/
/
Comments Off

on Pass programs for 2015-2016 ski and snowboard season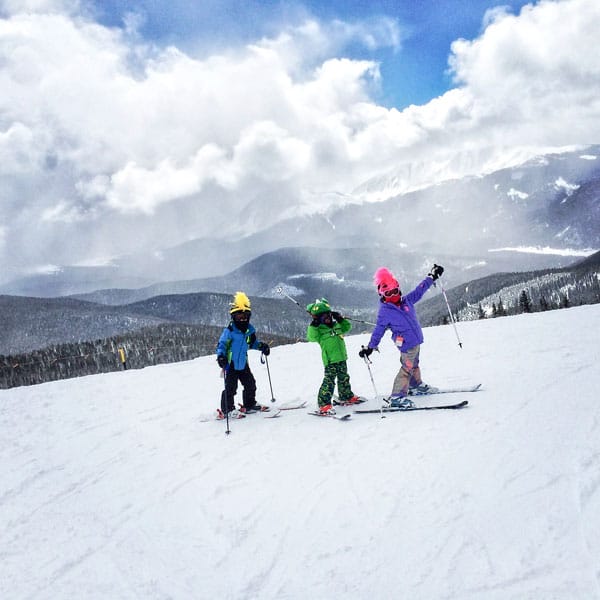 Wahoo!  Drew, Larson and Cameron Cooke take on a Keystone Mountain snowstorm this past March.  Winter will be here soon, so get your ski passes ready to go and have a blast on the slopes this season!

By Elean Gersack; photo courtesy of the Cooke Family
Epic Schoolkids Colorado Pack
New this year is the Epic Schoolkids Colorado Pack FREE for kindergarten through fifth grade students.  It provides four days of skiing or snowboarding at Vail, Beaver Creek, Keystone and Breckenridge.  Also included in the Epic Schoolkids Colorado Pack is a free first-time lesson and rental valid between January 5 and January 31, 2016 (excluding 1/15/16 through 1/17/16).
This pack replaces the previous School of Shred program, which also included an offering for sixth graders. Current sixth graders can receive the Epic Schoolkids Colorado Pack this year only, and next year the program will be dedicated to kindergarten through fifth graders.
Hurry! Registration for this program runs through October 11.  Simply bring your child, his/her report card/transcript/school ID or birth certificate, and a photo of the student (no sunglasses, hats, etc.) to Colorado Ski & Sports located by Park Meadows Retail Resort and complete the pass application.
For more information about Epic Schoolkids Colorado Pack, visit www.snow.com.

Epic Pass, Epic Local, & Summit Value Pass
With this year's Epic Pass (www.snow.com/epic-pass.aspx), you can ski as much as you want, whenever you want!  It includes unlimited access to Vail, Beaver Creek, Breckenridge, Keystone, Park City, Heavenly, Northstar, Kirkwood, and Perisher (2016 season), Afton Alps, Mt. Brighton, and Arapahoe Basin with no black out dates.  Pass prices increase as the season approaches, so buy early.
Visit www.snow.com to view all pass options available for Vail Resorts' mountains.

Colorado Ski Country USA Fifth and Sixth Grade Passports
Fifth graders can ski or snowboard 60 days FREE across 20 resorts with the Fifth Grade Passport.  Passport holders will receive three days at each participating location, including Arapahoe Basin, Aspen Highlands, Aspen Mountain, Buttermilk, Copper Mountain, Crested Butte, Durango Mountain, Eldora, Howelsen Hill, Loveland, Monarch, Powderhorn, Cooper (formerly Ski Cooper), Snowmass, Ski Granby Ranch (formerly SolVista), Steamboat, Sunlight Mountain Resort, Telluride, Winter Park Resort, and Wolf Creek Ski Area.  Fifth graders who have never skied or snowboarded have the opportunity to learn during the month of January with a free beginner lesson.
Purchase a Sixth Grade Passport with four days each of skiing or snowboarding at the 20 resorts listed above for $99.
Visit www.coloradoski.com/passport to learn more about the Colorado Ski Country USA's Fifth and Sixth Grade Ski Programs.  Fliers will be distributed at most schools and registration for this program is online.

Colorado Ski Country USA's Gold Pass
Enjoy unlimited access to some of the best mountains in Colorado all season long and with no blackout dates for $3,200.  The pass is transferable so it can be shared among friends, clients, co-workers, family and more.  The pass is valid at 20 resorts across Colorado.  Visit www.coloradoski.com/gold-pass to learn more about the Gold Pass.