Patriot Anglers provide purpose
August 1, 2020
/
/
Comments Off

on Patriot Anglers provide purpose
By Shaun Kernahan; photos courtesy of Bill Barclay
Growing up in the Dallas-Fort Worth area of Texas meant hot summers and rolling hills, so when Bill Barclay discovered trout fishing brought him to cooler climates and mountains, he was, well, hooked.
Barclay recently moved to Castle Pines with his wife, Pat, to be closer to his son and closer to trout fishing. His love of fishing has taken him all over the country, but about seven years ago, it also led him to some of the most fulfilling experiences of his life.
Barclay had a good life; he had a good job, good family, good home and good friends, but he was missing something – the satisfaction of giving back. It was at this time he discovered a North Texas organization called Patriot Anglers (similar to, but not affiliated with, the organization of the same name in Parker, Colorado). Patriot Anglers is an organization that teaches wounded veterans to tie flies and to fly fish.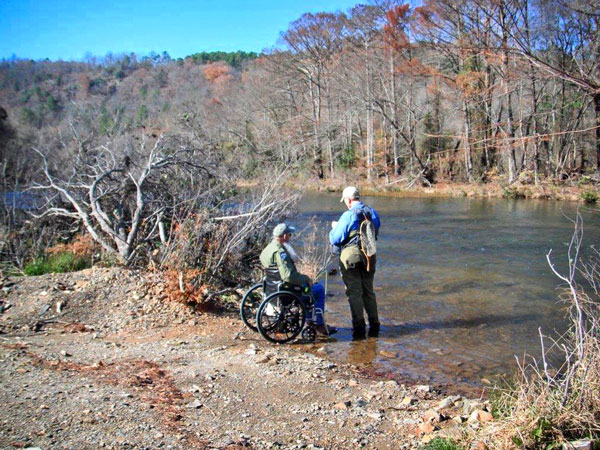 Early in his time with the organization, Barclay recalled walking into a room with 10-15 vets, humbled that he was the lone person in the room without a Purple Heart. It was moments like this that made him realize the reach that the program had, but it is the one-on-one interactions that continue to have the most impact on his life today.
Barclay shared a story about two vets having a conversation – one mentioned his love for hunting and asked if the other hunted. The other man, a retired Marine Corps gunnery sergeant and sniper, looked up after being quiet for a minute and simply said, "No, I can't kill anymore."
There was also the Vietnam veteran who was paralyzed due to injuries and returned to San Francisco only to be spit on and have eggs thrown at him. He went into a Goodwill store to get non-serviceman clothes so he could blend in and be left in peace. Barclay was his guide in Oklahoma, carefully rolling his wheelchair into about a foot of water to be in a better spot to cast. The man looked at Barclay and said, "Taking me fishing is the nicest thing anyone has done for me since Vietnam."
The final story Barclay shared was of a man battling the emotional demons that plague so many vets after combat. Before the fishing trip, he had told his wife to buy him a suit because he just couldn't take it much longer. On the trip, the man mentioned to Barclay that his wife bought him that suit so that we would have one to be buried in; it is the first suit he ever owned. This same man fell in love with fishing, and Barclay saw him a year later at an event the Patriot Anglers put on, and then another year or so after that. When speaking of that man now, Barclay simply said, "I think he is making it, and I think we had something to do with that.