RCHS Jaguars pounce on the competition
December 1, 2009
/
/
Comments Off

on RCHS Jaguars pounce on the competition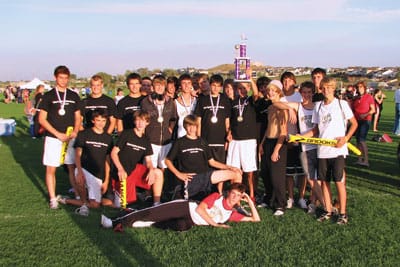 Rock Canyon High School Cross Country Junior Varsity Boys take 1st place at Arvada West meet.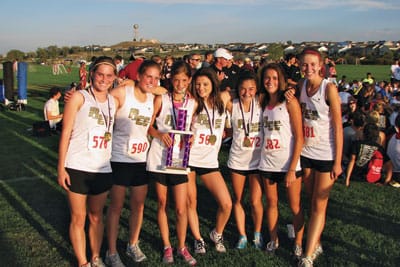 Rock Canyon High School Cross Country Varsity Girls take 1st place at Arvada West meet.

Article and photos by Elizabeth Wood West
Rock Canyon High School cross country team Head Coach Dan Davies, Assistant Coach Alan Lind, and Co-Head Girls Coach Anna Moseley have something to roar about. The Jaguars have been running fast and strong this season, leaving their competition in the dust. On September 18, Varsity Boys and Girls and Junior Varsity Boys and Girls teams took a bite out of the competition and seized first place wins at the Arvada West Invitational. Eight high school teams competed at the event.
On September 26, Rock Canyon High School held its first Invitational Cross Country Meet. Thirteen schools participated in the event. The 5k course, designed by Rock Canyon High School parent volunteer Rick Olson was challenging to the runners because of the many hills they had to cover during the race. Again, the Jaguars leaped ahead of the competition. Varsity Boys and Junior Varsity Boys and Girls took first place at their home school's meet.
At the halfway mark of their season, the Jaguars fought hard on October 2 against forty-four other schools at the Dave Sanders 2009 Invitational. The meet was held on a beautiful fall afternoon at Clement Park, home to the deeply moving Columbine Memorial. This time, the Jaguars won first in Varsity Boys, Junior Varsity Boys, and placed second in Junior Varsity Girls.
Snow and freezing temperatures cancelled out the October 10 Windjammer Invitational at Englewood High School. The course for this meet is known to be flat and fast, and is typically a great place to set records and advance in rankings. Disappointed but determined, the Jaguars worked hard to be ready for their next meet, the Continental League Championship. Held on October 16 at the Aurora Sports Complex, seven high schools competed. Varsity Boys placed third, Varsity Girls placed fourth, Junior Varsity B Boys and B Girls placed second, and Junior Varsity C Boys took first.
On October 23, the Jaguars, still running strong, headed for the last competition of the season – the Regional Championship in Falcon, CO. Only the top five out of the fifteen competing schools at this meet would qualify for the State Championship. The runners ran hard in freezing weather on a course that had drainage ditches filled with melting snow. The Jaguars placed second in Varsity Boys and third in Varsity Girls.
The Jaguars moved in for their final competition, the State Championship in Fort Collins. Varsity Boys were ranked seventh and Varsity Girls were ranked ninth for this meet. This would be the fifth consecutive year that Varsity Boys qualified for State and the sixth consecutive year for the Varsity Girls.
Jaguars Varsity Boys finished in fifteenth place and Varsity Girls finished in twenty-first place. Jaguars Boys top runner was Connor Johnston, finishing with a time of 17:47 for the Varsity Boys race. Jaguar Girls top runner was Sidney Fleece, who finished with a time of 20:56 for the Varsity Girls race. "We look forward to another successful season for 2010," says Davies.

RCHS Cross Country Junior Varsity Girls take 1st at Rock Canyon Invitational meet.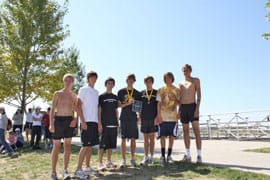 RCHS Cross Country Varsity Boys take 1st at Rock Canyon Invitational meet.