Salon 188: a whole new look; new owner
December 1, 2010
/
/
Comments Off

on Salon 188: a whole new look; new owner
New furniture, cabinetry and consignment artwork add to the sleek surroundings.

Article and photos by Kathy Dunker

The familiar Salon 188 at the Village Square in Castle Pines North may not be so familiar anymore. New owner, Judy Krowiec, resident of Esperanza, has put the salon through a major transformation in preparation for its grand opening in December.
The former concrete floors have been replaced with distressed hardwood floors, the white walls are now a calming aqua, and that's just the beginning of the upgrades Krowiec is making. Krowiec says, "The only thing that stayed from the previous owner is the computer and the shampoo bowls." New cabinetry, stylish lighting and mirrors, all new furniture and massage table, complete bathroom overhaul, and the addition of an employee break room and kitchen are on the long list of Salon 188's changes for the better.
In addition, the boutique at the front of the salon has a fun mix of products that give back to various charities and causes. Included in the boutique are hand beaded hair clips that give back to South African children and snow for sale that gives back to the environment. While Krowiec is not sure what the snow stuff is made of, it is cool and looks and feels similar to snow which can make for an amusing stocking stuffer. Also popular in the boutique are bling strands for hair and hand painted t-shirts.
Why did Krowiec decide to pursue her own business? Krowiec's 25-year background in real estate, appraisals, and construction was not cutting it in the current lagging economy. So without previous salon experience, Krowiec did a lot of research about it, especially on the products that she sells. Krowiec is selling salon exclusive items only and those which she has researched or even tested herself to be high quality and effective. In addition, Krowiec is completely revamping the website to offer an entire education on all of her product lines.
While the spa, which will include massages, wraps, facials, and scrubs, will not be open for service until January, the hair services are up and running now. Krowiec retained nine independent stylists who were with Salon 188 previously, and she is also looking to hire four more full-time stylists for the busy shop. And as Krowiec says, "We are all about service! Service, service, service!"
Plan to stop by Salon 188's grand opening celebration on Saturday, December 4, from 3 p.m. to 6 p.m. It will be an enjoyable adult gathering with wine, cheese, steak bites from neighboring Duke's restaurant, mini bundt cakes from The Bundt Shoppe, and some very high end goody bags for the first 200 people who arrive. To find out more about Salon 188, visit www.salon188.com.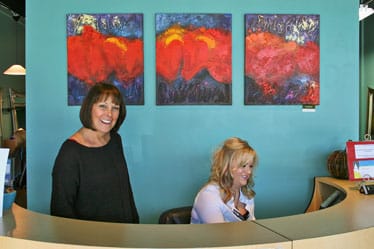 Krowiec (left), proud new owner and remodeler of Salon 188 in Castle Pines North, pictured with Kristina McKissen (right), receptionist and make up artist.