Spellbinders bring stories to life
September 1, 2015
/
/
Comments Off

on Spellbinders bring stories to life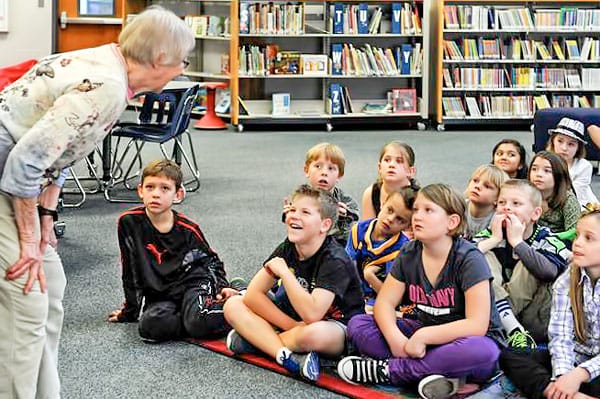 A Spellbinder volunteer captivated the imagination of this audience of children.

Information provided by Douglas County Libraries
Douglas County Libraries is seeking volunteers for a program that bridges the generation gap and helps young children learn.
Spellbinders are seasoned volunteers ages 50 and older who stay young at heart by telling stories to children in Douglas County schools. A four-session Spellbinder training will be held at Douglas County Libraries in Castle Rock (Philip S. Miller Library, 100 S. Wilcox St.) on September 15, 17, 22 and 25, from 1 p.m. to 4 p.m.
"I love Spellbinders because they bring back the old art of storytelling," said DCS Montessori librarian Holly Morgan. "It is so surprising how in this age of technology, our kids are absolutely intrigued by the stories. It helps us to slow down, be with humans and often learn something, on top of being entertained."
No prior experience or special talent is required of volunteers. "Stories are wonderful gifts to give children," said Laura Olson, early childhood literacy specialist for Douglas County Libraries. "As humans, we are all hard-wired to share these skills."
For more information about the Spellbinders program, contact Laura Olson in the literacy department at 303-688-7626, or e-mail her at lolson@dclibraries.org.
"Our volunteers find the work very rewarding," Olson added, "and there's no question about the benefit to our county's children."
Douglas County Libraries is a passionate advocate for literacy and lifelong learning. For more information or to register for Spellbinders training, call 303-791-7323.