Stellar new team leads the way at Rocky Heights
September 1, 2015
/
/
Comments Off

on Stellar new team leads the way at Rocky Heights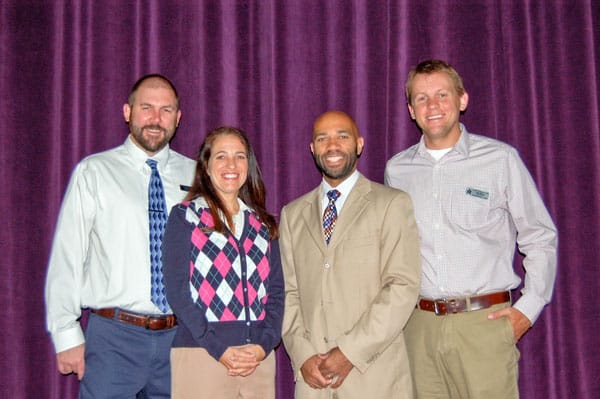 Rocky Heights Middle School is proud of its new administrative team. Left to right: Dean Kelly Corr, Assistant Principal Celine Wicks, Principal Dr. Jason Sears, and Assistant Principal Matt Wilson.
Article and photo by Amy Shanahan
Rocky Heights Middle School (RHMS) experienced quite a bit of change over the summer, as its entire administrative staff took on new roles in the district and beyond. Now, the school is beginning 2015 with a stellar new administrative staff who are looking forward to continuing the school's path of excellence.
Dr. Jason Sears is leading the school as the new principal. Sears, who is in the process of moving to Colorado from Richmond, Virginia with his family brings a wealth of experience from the corporate finance world and a diverse background in education. Sears taught and served in several administrative roles in Virginia and additionally worked with Turn Around Partners, an organization that is dedicated to transforming education in the bottom five percent of public schools. Sears' interest in education reform and 21st century learning were what initially led him to pursue a job in Douglas County and ultimately to RHMS.
"This is an amazing place that is already doing great things and it's just a matter of evaluating and making incremental changes that create structures to continue to build on greatness," remarked Sears. "It's a nuanced approach to education and it's very exciting."
Sears is joined by two new assistant principals, Celine Wicks and Matt Wilson, and also a new dean, Kelly Corr. Wicks and Corr are familiar faces at RHMS, as they have both served on the faculty as teachers and coaches.
Corr has been at RHMS since the doors opened 14 years ago and is thrilled with his new opportunity. "I look forward to having the opportunity to help RHMS take our game to even higher heights," stated Corr. "I believe we are already the finest middle school in Douglas County, if not the state of Colorado, and arguably one of the top public schools in the U.S. What I love about RHMS is the fact that most schools set the bar very high for their staff and students, but here at Rocky Heights, setting a bar only gets in the way of our staff and students on their way to greater heights than could ever be imagined."
Wicks is returning to RHMS after serving as an assistant principal at Saddle Ranch Elementary school. "I am thrilled to return to RHMS in an administrative capacity. I am most excited to be working with our newest Nighthawks, transitioning them to the middle school environment. RHMS is a special place where everyone is able to find their own niche, grow, and thrive academically as well as socially," remarked Wicks.
Wilson is new to an administrative role having taught at Sage Canyon Elementary school in Castle Rock. Wilson stated, "I'm really looking forward to getting to see the innovative things the teachers can do and how much further they can take their ideas. This community has been very welcoming and it's obviously a community that cares and wants what's best for their kids."
Sears and his new administrative staff look forward to observing the staff and students and getting to know the community as a whole. Sears explained, "We want to set up smaller meetings with all communities to make ourselves available and really exchange ideas and learn what has been successful and what we can do differently. We are going to take time to meet parents, students and teachers and really understand why RHMS is the great school it is."
To learn more about RHMS, visit www.RockyHeights.org.