The Bibliophiliac's Corner: "The Bookseller"
March 1, 2016
/
/
Comments Off

on The Bibliophiliac's Corner: "The Bookseller"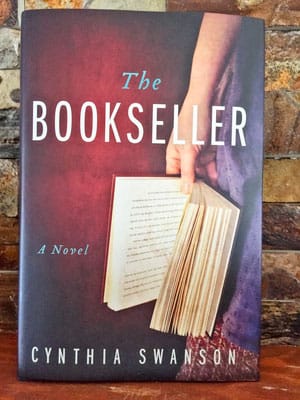 Article and photo by Amanda Merriman
The Connection writer Amanda Merriman admits she is hopelessly addicted to books. It has been this way nearly all her life. Every month she will share what she has been reading with the hope that others will share in her obsession.
Denver author Cynthia Swanson's first published full-length novel "The Bookseller" has captivated the attention of many readers. The Bookseller made the "Indie Next List" in March 2015, which is a monthly list that independent booksellers generate to keep bibliophiliacs apprised of great reads.
Have you ever thought to yourself, "Is this really my life? What if things had turned out differently?" The Bookseller gives readers a unique twist on the idea of the "what if" scenario. The novel's main character Kitty lives in Denver in the 1960s. She is single and runs a floundering bookstore with her best friend, which sets her apart from most women in this time in history. The story draws readers when Kitty begins to have dreams about living a very different life. In these dreams she is Katharyn, a married stay-at-home mother to three children. The vivid details in the dreams leave Kitty feeling conflicted and confused. As the dreams increase in frequency and detail, Kitty begins to have trouble coping with life in these parallel universes. As the story builds, the line between the real and dream world becomes disturbingly blurred.
Swanson invites us to ponder many intersecting issues through this interesting work of fiction – such as friendship between people at different stages of life, feminism, consequences of life choices, and emotional trauma. Readers will not want to put The Bookseller down as they feverishly read to discover what becomes of Kitty. Castle Pines residents will also likely enjoy the unique references to the Denver area in this book and will be able to imagine what Denver was like in the 1960s if they were not lucky enough to experience it firsthand.
Fellow bibliophiles and book club members, feel free to join in the dialogue. Blog your thoughts and feedback at www.castlepinesconnection.com and enter the keyword "bibliophiliac" in the search bar. Have you read a great book recently? Don't keep that juicy tidbit all to yourself. Email your find to amerriman@castlepinesconnection.com.