The Country Club at Castle Pines employees receive scholarships
September 1, 2016
/
/
Comments Off

on The Country Club at Castle Pines employees receive scholarships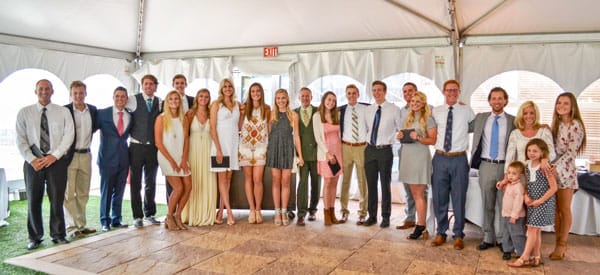 Scholarship recipients included: (left to right) Matt Hoffman, Sam Kahn, Blake Follansbee, Ryan Hough, Mackenzie Maslowski, Reese Hummel, Bailey McCue, Danielle Compton, Taylor Kelley, Abby Buretz, Paul Dugan, Ryan Simpson, Ben McGraw, John Wood, Morgan Adams, Tanner DeBoer, Blake Mounts, Jennifer Leonard and Kristen Thomlinson.
Article and photo by Amy Shanahan
Since 2007, members of The Country Club at Castle Pines have contributed toward a scholarship fund in order to provide support to deserving club employees. In 2013, this became a club-wide effort which resulted in a scholarship foundation and a formal selection committee which works each year to identify deserving recipients.
This year the employee scholarship committee was chaired by club member and Castle Pines Village resident Archie Anderson. Anderson was thrilled with the generosity of the members and with the number of employees they were able to gift. "This awarding of scholarships is one of the unique things that we do at our club, and it's wonderful to recognize these employees who are really the lifeblood of the club," Anderson remarked. "This is our way to give back to these fantastic employees based on their academic successes, community involvement and work tenure. They are all such outstanding employees who continue to wow us every year."
The scholarship committee opened up the eligibility for awards to dependents of employees. Two such scholarships were awarded in addition to the nineteen which were awarded to employees. The scholarship committee awarded $65,000 to a total of 21 recipients – a new club record.
Danielle Compton was a scholarship recipient for the third year, and was still overwhelmed by the generosity of the club members. Compton is set to graduate this coming December from Metro State University with a major in math and a minor in chemistry. The Peace Corps is next on her agenda, followed by medical school. "This scholarship is such a huge blessing, and it's so difficult to put into words what this means to me," stated Compton. "I didn't know how I was going to pay for my last semester of school and this was such a huge help. This shows me that people are willing to make an investment in me. I have big dreams that are kind of scary and this says to me that there are people who believe in me and really think I can do this!"