Timber Trail players get a kick out of kickball
October 1, 2014
/
/
Comments Off

on Timber Trail players get a kick out of kickball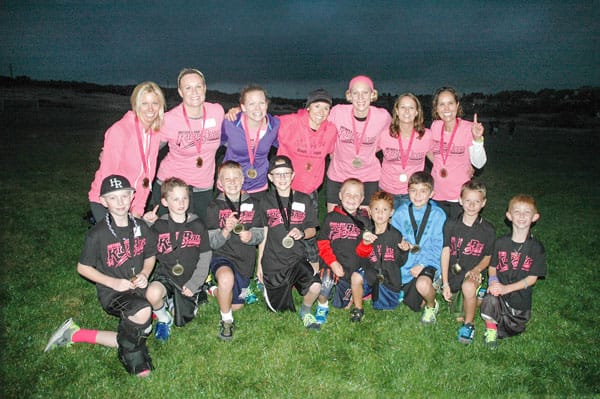 First place team "New Kicks on the Block" braved wind and low temperatures to claim victory.
Article and photos by Lisa Crockett
Another mother-son kickball tournament is on the books for Timber Trail Elementary (TTE) boys and their moms. This year's event – the sixth in the school's history – featured cold, wind and rain, but players still turned out in force, with one team kicking their way to victory.
"The tournament is a great way to 'kick' off the school year," said the event's organizer, Erika Greene, who took the reins of the event for the first time this year. "It's great bonding for mothers and sons, but also for the TTE community."
The event raises a little money for the school, but the event's focus isn't on earning funds. Rather, it's about building a sense of community and school pride. This year, the TTE community mourned the sudden passing of Eric Graning, father of TTE student Dax Graning. Eric's wife, Kristi, was on the kickball planning committee, and to honor Eric's memory, event organizers supplied wristbands for all tournament participants bearing the message: "Live like Graning – love, play, smile," a reminder of his passion for life.
"Our hope was that the bracelets would be a way to visually show the Graning family that there is an entire community of people who love and support them," said Page Warnke, a member of the kickball tournament organizing committee. "Eric was a man that loved life and his boys! The kickball tournament would have been something that was right up his alley."
As in years past, the tournament is the main event, but dinner from Chick-fil-A and Blue Bell Ice Cream were other fun features, as was a great music soundtrack to make the game fun. This year's tunes were provided by Castle Pines Village resident Tim Toole, who is a junior at Regis High School and owns and operates Tekspin DJ Services; Toole donated his services, playing Top-40 hits to support the event. "It's awesome to be here at an event like this," said Toole. "I think it's important to support the community, and I really love to play this kind of music."
In the end, the team dubbed "New Kicks on the Block" took home first place medals, but in Greene's view, everyone was a winner.
"This event takes help from a lot of people on the committee as well as our sponsors Blue Bell Ice Cream, Brandon Linn Orthodontics, Castle Pines Urgent Care and Family Practice, Chick-fil-A, Tekspin DJ Services, and Tim Pfannenstiel ReMax Professionals," said Greene. "This is so much fun to have something special for mothers and sons."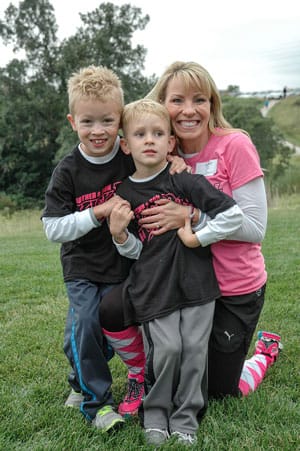 Timber Trail Elementary's sixth annual mother-son kickball tournament was organized this year by Erika Greene, here with sons Gavin (left) and Gage (center).

Tekspin DJ Services, a local business owned by high school junior Tim Toole, provided a musical backdrop for the event.