Turweston Lane chili cook-off
November 1, 2019
/
/
Comments Off

on Turweston Lane chili cook-off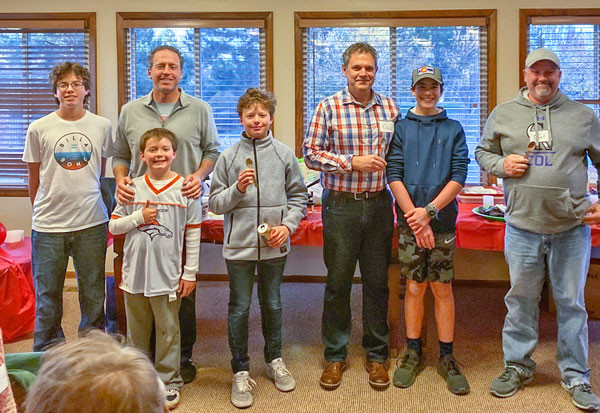 (Pictured left to right) The Laity family took first place in the Turweston Lane annual chili cook-off with their green chili recipe. The Geiser family took second place with their white chicken chili. The Johnson family took third with the their spicy white chili.
By Carin R. Kirkegaard; photo courtesy of Sarah Allison
The neighbors of Turweston Lane in Castle Pines welcomed fall with their annual chili cook-off held at the HOA2 Clubhouse in the King Crossing subdivision.
Originally planned as an outdoor celebration, the weather moved everyone indoors. "The wind also brought in some new neighbors who proved to step-up the competition. All in all it was a great day to enjoy a warm bowl of chili with our families," said Sarah Allison, this year's event organizer.
The event began 17 years ago in the fall of 2002. With houses still being built on the street, everyone was new to the neighborhood and the cook-off was a way to meet the neighbors and bond over food, said Sally Wagner, one of the original organizers for the event. That first year there weren't many entries, but there were games, from bean spitting contests to spoon races. Wagner reminisced that there were lots of small children on bikes and trikes. The prize for the best chili – a six-pack of pumpkin beer.
Now the event has grown and moved off the street and to the local clubhouse. Not only are there categories for best chili, but also prizes for the best side dish and the best dessert. There have been years with 14 different chili entries.
"It still is a wonderful way to unite and connect with our neighbors – new and old – and bond over food. Sometimes it is the only time of the year some of us see each other, so it is a pretty special event," said Wagner.