Unique Pizzas to Benefit Local Charity
February 1, 2007
/
/
Comments Off

on Unique Pizzas to Benefit Local Charity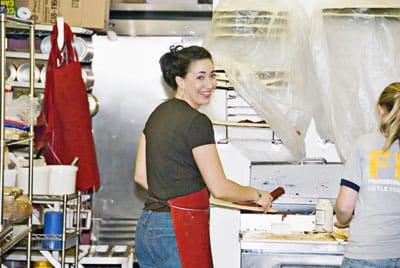 Lisa Towne, Little Italy Pizza in Castle Pines North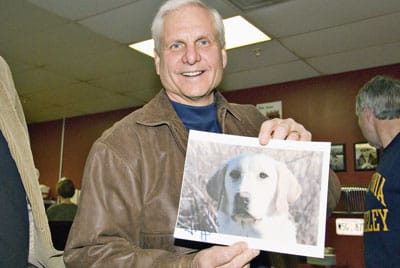 Parker resident Skip Guarini with his dog "Vinny"

By Lisa Crockett
What is for supper tonight? How about an authentic Italian pizza, one with roasted red and yellow peppers, sausage and Calamata olives? Order this pie at Little Italy Pizza in Castle Pines North, called the "Vinny 2G's," and make a donation to charity as well.
As part of the "Just Desserts" charity benefit, Lisa Towne, the owner of Little Italy, auctioned off the opportunity to create a signature pizza. Parker resident Skip Guarini paid $1000 for the honor of having his Italian grandmother's recipe added to Little Italy's menu for the year. When Guarini was named the winner, he was invited to a party and invited guests to sample the premier baking of the pizza.
"It's a very authentic recipe," said Towne. "I tweaked it just a little bit to make it suitable for commercial preparation and 'kicked it up a notch' by adding some extra garlic and using Calamata olives instead of regular black ones."
The pizza went on the menu in January and will remain there for a year. Each time a "Vinny" (named after Guarini's dog) is purchased, $1 will be donated to the Douglas County Women's Crisis Shelter.
Little Italy Pizzeria, located in the Safeway shopping center, is open for lunch and dinner. It offers eat-in, take-out or delivery. Call for a Vinny today at 303-663-2111.