BRE gets spruced-up; church members take part in Hands of Hope service day
July 1, 2015
/
/
Comments Off

on BRE gets spruced-up; church members take part in Hands of Hope service day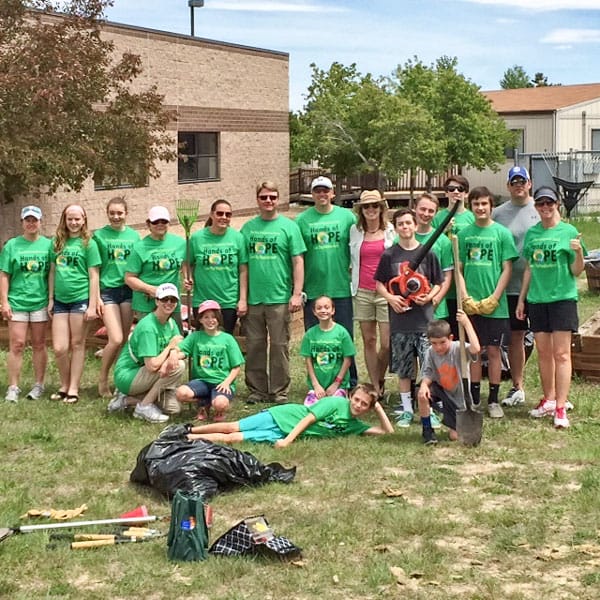 New Hope Presbyterian Church members helped beautify Buffalo Ridge Elementary on May 31. Pictured front row, left to right: Christy McDonald, Julia McDonald, Meadow Rodine, Jason McDonald, and Liam Abner. Back row, left to right: Nina Amey, Madison Amey, Alyssa Piel, Pam Applegate, Heather Rodine, Chad Rodine, Bryan Crock, Saralyn Crock, Brennan Crock, Charlie Keely, Ethan Crock, Sean Thompson, Andy Abner, and Katie Abner.

By Elean Gersack; photo courtesy of Andrew Abner
On May 31, more than 300 community members from Castle Pines and Castle Rock spent the morning on a mission to service area schools, neighborhoods, parks and more during the New Hope Presbyterian Church (New Hope) Hands of Hope service day.
Buffalo Ridge Elementary School (BRE) was one of eleven service sites selected. "Weeds were pulled, gravel was raked, bushes were trimmed and the gardens were cleaned out," said Castle Pines resident and New Hope congregation member Katie Abner.
It was a family affair for sure. "I went to school at Buffalo Ridge Elementary," shared 16-year-old volunteer Ethan Crock. "Helping clean up the area around the school brought back a lot of fun memories of my days at BRE. I'm glad we're able to help keep the school looking good. Plus it was fun to help with some of my friends and even the principal of Rock Canyon and his family."
According to Ethan's mom, Saralyn Crock, in addition to the work at BRE, other teams re-painted playground asphalt games (such as Chutes and Ladders and checkers) at Soaring Hawk Elementary; cleaned windows at the Early Childhood Center; helped with trail development and maintenance at Philip S. Miller Park; and landscaped at local homes where residents needed extra help. Other locations served included Sky Cliff Center – an adult day care and stroke support facility, Bonaventure of Castle Rock senior living facility, Douglas/Elbert Task Force, and the Castle Rock Senior Center.
According to Reverend Dr. Erik Holm, associate pastor at New Hope, this is a visible way to show others love right in their own community. This will most likely become an annual event based on the response.
New Hope Presbyterian is located at 3737 New Hope Way in Castle Rock (near Meadows Parkway and Prairie Hawk). Members of two long-time community churches, Sedalia Presbyterian Church and Louviers Community Presbyterian Community Church established New Hope in 1989. For additional information, visit www.newhopepres.org.