Buffalo Ridge Elementary students spend time sharing and caring
January 1, 2012
/
/
Comments Off

on Buffalo Ridge Elementary students spend time sharing and caring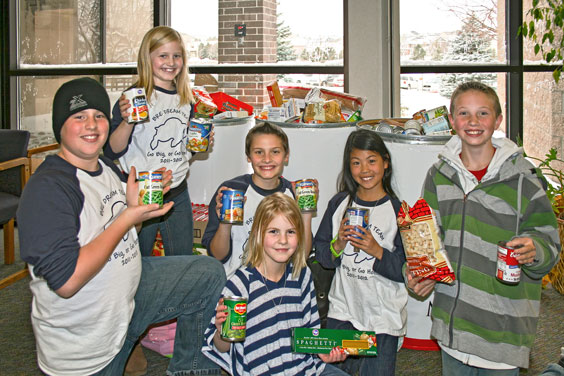 Members of the BRE Dream Team surround the more than 3,500 non-perishable food items collected at the school for the Salvation Army Food
By Katie S., BRE Ridgeline Staff Reporter
This season at Buffalo Ridge Elementary (BRE) had many inspiring examples of students sharing and caring for one another. The third graders celebrated the holidays with a Reader's Theater version of "The Polar Express." They presented to kindergarten, first grade, second grade and other third grade classes. They accepted donations of pocket change from the attendees, and donated it to a Denver Public School to help them go on fun field trips.
Many classes at BRE participated in the "Adopt-a-Family" program this year. A total of 13 families were adopted, and students purchased clothing, toys and toiletries to support these families. Mrs. Duran, who helped organize this effort said, "We are making a positive difference in our community by helping others. Helping others is just such a great thing to do, and it shows that at BRE we care, because we really do!"
During the month of November, the whole school participated in helping the Dream Team's Salvation Army canned food drive. Dream Team is the school's student run giving-back organization with kids from first through fifth grades.
"The canned food drive is important to us because it gives the Dream Team a way to help out people in need that are less fortunate than us. It also gives the Dream Team a sense of accomplishment that we have made a pantry better for a person by taking a little out of ours," shared fifth grade Dream Team member, Courtney.
This year, the Dream Team collected 3,529 items – almost seven barrels. The Salvation Army volunteer who picked up the donated items shared that this was the most cans he has seen collected from any school before.
Buffalo Ridge had a great holiday season, and hopes to be as successful next year as they were this year. Fifth grade teacher, Mrs. Pinke said, "It's a time for giving and it always feels good to give."