Castle Crocs dive into fourth season
June 1, 2009
/
/
Comments Off

on Castle Crocs dive into fourth season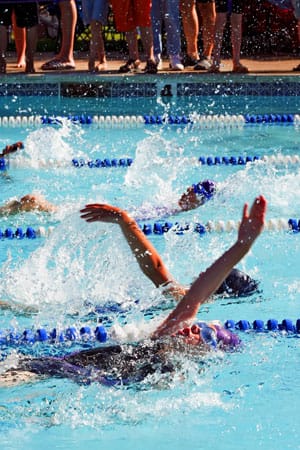 by Carin R. Kirkegaard
Memorial weekend brings the beginning of summer and the return of the Castle Crocs to the swimming pool. With more than 180 swimmers, the Crocs hit the water this summer for the first time from diving blocks.
Since the Crocs inception in 2006, the team has been vigilantly counting their pennies and saving towards the big-ticket item of purchasing diving blocks. Now, as they start their fourth season they will be diving from the recently installed blocks at HOA2. With this purchase, the team can continue to grow with their team's ever enhancing swimmer ability and also have versatility in hosting the league meets.
With the growth of the team this summer, the Crocs have added extra practice times to keep a low swimmer-to-coach ratio in each lane at practice time. In addition to the practice times held between 7 a.m. and 8 a.m. at HOA2, there will be practices held at the CPNII pool located west of Monarch in the Village Homes HOA. In addition, the HOA2 board of directors has allowed the team to add an extra practice time at 9 a.m.
The Crocs focus is providing a healthy recreational experience that promotes child and swimmer development in a fun and positive way. The team strives to make the experience family friendly, convenient and affordable for each member.
As part of the Mountain Hi Swim League, the Crocs will swim in five dual meets in the B2 division; Two of which will be hosted by the Crocs and held at the HOA2 pool. They will also swim in preliminary and a championship meet. Swimmers with a qualifying time will compete in an All Star meet at the end of the season.
The Crocs are a nonprofit parent run organization, the team with the exception of a paid coaching staff, is operated with parent volunteers and the help of local HOAs, businesses and families.
The Crocs thank HOA1, HOA2, CPNII, Daz Bog, Little Italy, Colorado Kids Pediatric Dentistry, Drs. Lisa Fox and Patrick Wilson, Dr. Andrew Dunbar with Castle Pines Orthodontics, Maureen Brown with Mom's the Word! Talk Show, Safe Splash Swim School and CPN family the Swiateks.