Castle Pines Library: Establishing community roots
November 1, 2011
/
/
Comments Off

on Castle Pines Library: Establishing community roots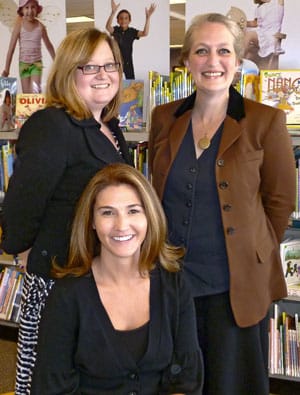 Amy Long (left), Cherie Ellingson (center) and Aspen Walker (right) at home at the Castle Pines Library
Information provided by Douglas County Libraries
Castle Pines has had a library to call its own for just more than two years. In that time, the community has come to expect personal and friendly service, in addition to the latest and most relevant materials, technologies and programs. Castle Pines Library welcomes new staff members this fall who aim to continue its short but celebrated tradition of excellence.
Aspen Walker assumed her role as manager in September, overseeing both Castle Pines Library and Lone Tree Library. Walker is a fifth-generation Douglas County resident, and joined the staff of Douglas County Libraries in 2002 as part of the district's administrative team.
"I'm excited to work out in the community, side by side with our public services staff while still applying a big-picture administrative framework," said Walker.
In addition to being a tireless advocate for libraries in general, Castle Pines Library department head Amy Long said, "Aspen is savvy and innovative, and is dedicated to personal service. She's also an extremely kind presence. Having her here will be great for our staff and our patrons."
In September, Castle Pines Library and Lone Tree Library also gained a new program liaison in staff member Cherie Ellingson. While some patrons may recognize her from her years of front line service, Ellingson is excited to expand her reach to include planning library programs.
"Informative, educational, and fun programming is vital to any library," she said. "I'm excited to bring to the smaller locations the same kinds of programs that the bigger locations offer. When we first opened in Castle Pines, we didn't do many programs. Now we will do a lot more, for all our different audiences. We're putting down roots."
Part of Ellingson's focus will be creating connections within the community. "I really want to connect with local businesses and city and business leaders," she said. "The library has always been good at creating partnerships, and I want to help connect groups and businesses to each other, not just to the library."
In addition to Walker, Long and Ellingson, the remainder of the Castle Pines Library staff is comprised of a few patron services and materials handling technicians, plus two librarians. All are dedicated to making Castle Pines Library a vibrant and viable entity every day.
Toward that end, the library's leadership is closely tied to the Castle Pines Library Campaign, a citizen volunteer-led organization dedicated to raising funds for the library to offset failed bond initiatives in recent years.
Of the campaign, Long said, "The fundraising efforts have put us on the same team as the community. That's not common. We've already had people sign up to sponsor Castle Pines Library for a day, and we're just getting started on that project."
"This community's support for its library is phenomenal," said Walker. "I commend Amy on her connection to the fundraising effort. She has made library advocacy less abstract and much more concrete. It's library support at its very best."
The Castle Pines Library "Let's Keep a Good Thing Going" fundraising committee recently received recognition for its efforts. Go to http://www.castlepinesconnection.com/news-2011/castle-pines-library-establishing-community-roots to read more about it.