Castle Pines resident is off to the wild blue yonder
July 1, 2017
/
/
Comments Off

on Castle Pines resident is off to the wild blue yonder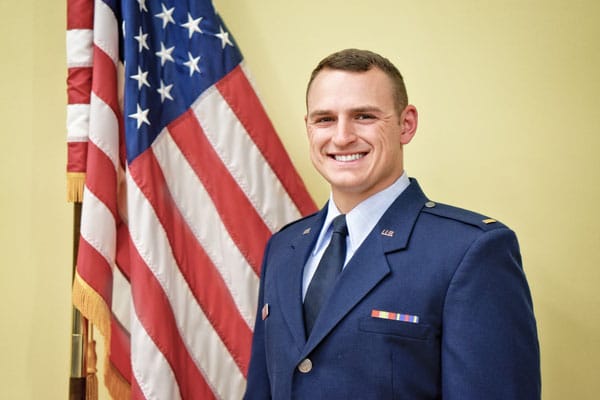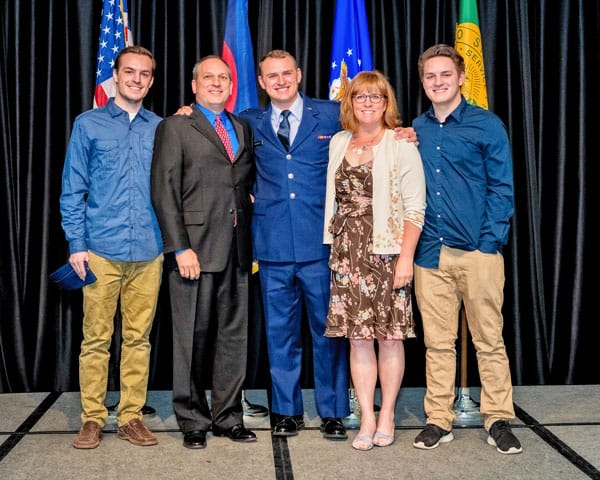 The Gruenhaupt family at Nathan's commissioning ceremony in CSU Fort Collins on May 12. Pictured from left to right: brother Jacob, father Darin, Nathan, mother Jenny and brother Sam.


By Kathy Fallert; photos courtesy of Nathan Gruenhaupt
Castle Pines resident and Douglas County High School graduate class of 2012, Nathan Gruenhaupt graduated on May 13 from Colorado State University (CSU) with a marketing degree. In addition, Gruenhaupt was commissioned as a second lieutenant in the United States Air Force during the Reserve Officers' Training Corp (ROTC) commissioning ceremony the day before as a pilot trainee.
Gruenhaupt was awarded several scholarships, including the Falcon Flight II Scholarship, the Kirsten L. Tool Memorial Scholarship and the Captain Bruce Cardy Scholarship. College ceremonies and ROTC commissionings recognized 3,337 undergraduate and 1,088 graduate students this year, with 26 Army and Air Force ROTC commissionees.
"When I went into college I had not planned on joining the Air Force, but when I walked by the recruiting booth I decided to give it a try since I wanted some structure in my life," recounted Gruenhaupt. "I originally was supposed to wrestle in college but had a knee injury that prevented me from going that route. My uncle had been a large influence in my life and had mentioned ROTC, but I didn't give much thought because no one else in my family had been military. Little did I know the journey I was signing up for, but I wouldn't have it any other way if I could go back in time."
The first two years of ROTC are noncommittal. Between the second and third year the student attends field training for four weeks at Maxwell Air Force Base in Montgomery, Alabama. Once that is complete, the student contracts into the Air Force Reserves as a cadet. The next two years focus on developing leadership. The cadets hold different leadership positions within the detachment, all while maintaining a social life and school life. In order to commission with the military, you are required to graduate with a degree from your university.
Gruenhaupt recalled, "Fast forward four years, with a lot of ups and downs, I graduated CSU with a marketing degree and commissioned as a second lieutenant into the Air Force as a pilot trainee. I had received orders to report to my base in Columbus, Mississippi nine days after graduation and am currently awaiting the first phase of my training in July. Undergraduate Pilot Training (UPT) is about a year and a half long. Once that is complete, I will be assigned to an aircraft and have another year or so of training in that aircraft. After all the training is complete I will be serving a 10-year contract to fly for the Air Force."
Gruenhaupt hopes to serve a total of 20 years in the Air Force, but is taking it a step at a time. His next challenge will be succeeding at training and to decide on an aircraft that fits both the lifestyle he wants and the type of flying that he wants to do. At the moment, he doesn't know what either of those are but plans on some self-discovery during the training process. Gruenhaupt would also like to start a family before he is 30, so that will likely influence his decisions as well.
"Ideally I would like to get stationed somewhere overseas or wherever there are mountains, like Alaska!" Gruenhaupt remarked. He remembers well two quotes from his wrestling days printed on a poster which read, "Pursue your dream with courage; prepare your heart with determination," by Steve Knight along with the Bible verse Phillippians 4:13, "I can do all things through Him who strengthens me."
Gruenhaupt reflected, "Those two quotes carry heavy meaning in my life because nothing worthwhile comes easy. Often times it's the things we have to work hardest for that are worth the effort. Every day I would look at these quotes and remind myself why I was doing what I was doing. They also helped remind me that I can't do everything alone. I rely so much on my family, friends, and most importantly God to help make it through these challenges."