Castle Pines residents vote in favor of Home Rule
June 1, 2019
/
/
Comments Off

on Castle Pines residents vote in favor of Home Rule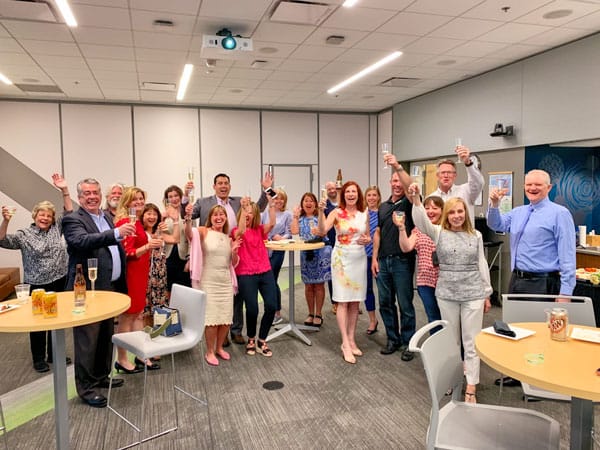 City staff, elected officials and members of the community gathered to await the election results. Upon its passing, a joyous crowd toasted the citizens and the success of the election results.

Information provided by the City of Castle Pines; photos by Terri Wiebold
Tuesday, May 14 was a historic day in the City of Castle Pines. Unofficial election results showed that residents voted to approve the City's new Home Rule Charter, making Castle Pines the state's 102nd, and newest, municipality to be governed by Home Rule.
"This is an exciting achievement for the community," stated Mayor Tera Radloff. "Home Rule helps set the foundation for building a strong community and really puts into motion our ability to better self-govern and make local decisions that uniquely impact the community and the residents who live here."
The Charter is the City's new "constitution" and most important guiding document. In November 2018, 13 Charter Commissioners were elected to draft the new City Charter.
"I want to thank the members of the Charter Commission and the residents of Castle Pines for supporting the efforts of the Home Rule Charter Commission," said Jeff Huff, Vice Chair of the Home Rule Charter Commission. "Members dedicated many hours to writing the City's new Charter that will undoubtedly lead Castle Pines into the future."
With a majority of the votes counted, 77% of the returned ballots show support for home rule. "We had 26% voter turnout," explained Castle Pines City Clerk, Tobi Basile, "with 1,509 electors voting in favor of Home Rule and 442 voting against."
Home Rule procedures began immediately for the staff and elected officials. While Home Rule doesn't have an immediate impact on residents' daily life, they can expect to see a lot of administrative work by staff taking place. First, the City will begin amending ordinances to come into compliance with the Charter's new requirements.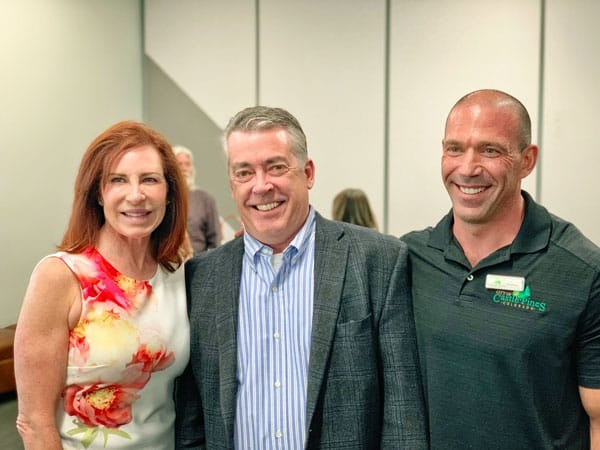 Left to right: Mayor Tera Radloff, former mayor and Home Rule Charter Commission Vice Chair Jeff Huff, and City Manager Michael Penny breathed a sigh of relief following the passing of the Home Rule vote for the City.
Additionally, the City will begin the process to directly collect and audit sales and use tax (both in person and online) beginning January 1, which, under statutory rule, is first collected by the state. Direct tax collection by the City improves tax procedures and guarantees that local tax dollars remain in the community to fund local projects. The City also has greater flexibility, clarity and effectiveness in adopting regulations related to streets and traffic management as well as zoning and development.
Read the City's new Home Rule Charter at www.castlepinesgov.com/sites/default/files/media/2019-01-30_castle_pines_home_rule_charter_adopted.pdf.